Football Leaks documents prove hidden ownership of multi-billion Euro Turkish hotel and construction business, Rixos and Sembol
Sembol and Rixos CEO, Fettah Tamince, signed secret documents to hold shares on behalf of the Arif family
Tevfik Arif's 'Trump SoHo' project, with President-elect Donald Trump, was "mob front" with Russian mafias partners
When Tevfik Arif's name was plastered on the front pages of newspapers in Turkey following the Savarona scandal, Fettah Tamince, CEO of Rixos Hotels and Sembol Construction, publicly distanced these top brands - and himself - from the Arifs.
In a written statement released two days after the raid, Tamince claims that, although he and Tevfik "had a partnership in 1999 through Labada Hotel in Antalya," their relationship ended in 2007 when Tevfik bought him out of the hotel.
"We have never had any other partnership except for this one," he added. "Unlike what's being claimed; Tevfik Arif has no shares in Sembol Construction or Rixos Hotels nor did he contribute to these companies' capital."
Documents in the Football Leaks cache show a different story, revealing a hidden arrangement, often assumed, but never proven.
On paper, Rixos and Sembol, two huge companies in Turkey, are owned by Tamince and Turkish architect Aytakin Gutakyn. Rixos has 20 hotels across the world, mostly in Turkey, Kazakhstan, Azerbaijan, Russia and UAE, and boasts an annual revenue of around half a billion euro.
Sembol is even bigger. Now one of Turkey's leading construction companies, its turnover is estimated at nearly 1.5 billion dollars, mostly earned through public contracts in Kazakhstan. A presidential library, universities, a train station, mosques, luxury business and sports centres, four Rixos hotels. Sembol built them all. And more.
In Turkey, in addition to Rixos's ten establishments, it received multi-million dollar contracts for the Istanbul Congress Centre and Zigina Tunnel on the Black Sea coast. In 2010, the Russian Olympics Committee awarded Sembol around $1 billion in contracts for the Sochi games, including for a Rixos Hotel. During the consruction, the company was accused of exploiting migrant workers.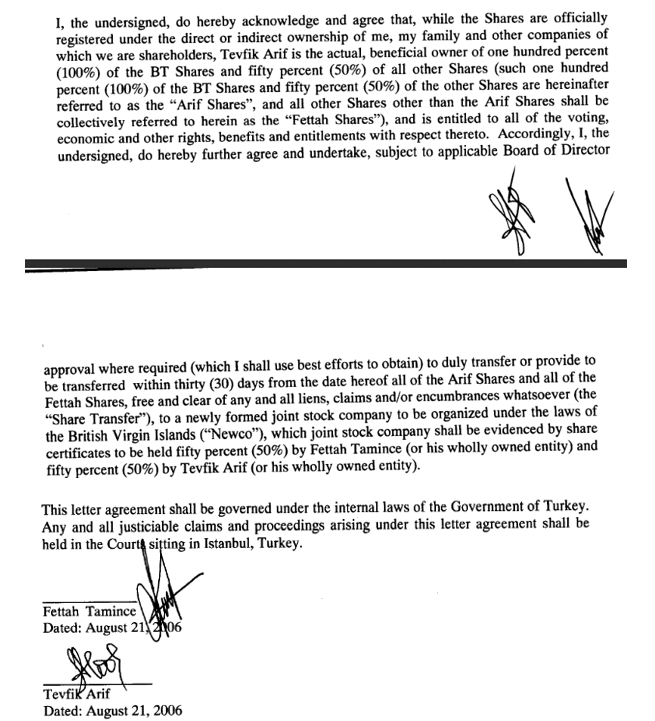 In September 2012, Arif Arif writes to his PA in the London office of the sports management company Doyen, where he is an unofficial director, to check if Tevfik is around. Arif wants Tevfik "to compile all news for sembol insaat and sochi winter Olympic" and "projects their doing and so on" [sic].
Additionally, copies of the Doyen's corporate material refers to the Arifs' "controlling interest in Rixos Group of Hotels and Sembol Construction Company", describing them as "founding investor[s]" and "continuing financial backers".
The clearest evidence, however, is an email sent to Arif Arif in February 2012, 18 months after the Savarona incident, by Tevfik's business associate.
Attached to an email titled "Hi Arif. Here are the Rixos documents signed between Fettah and your dad" are a series of legal documents from 2006: a 'Declaration & Undertaking' and 'Memorandum of Understanding (MoU)' – each signed by both Tamince and Tevfik – and a copy of the Rixos's company structure.
The declaration, dated August 2006, discusses restructuring Rixos and Sembol entities in the British Virgin Islands. It states that Tamince holds shares in six companies, including Rixos, Sembol, and four others related to the hotel chain, on Arif's behalf.
"While the Shares are officially registered under the direct or indirect ownership of me, my family and other companies of which we are shareholders," Tamince attests, "Tevfik Arif is the actual, beneficial owner" of 50 per cent of these Sembol and Rixos shares.
"The reason the Arif Shares are registered to my name," the declaration continues, "is the confidential relationship between me and Tevfik Arif and that the intent is, was and has always been that I would hold the Arif Shares in trust on behalf of Tevfik Arif."
The accompanying MoU decrees that a new committee be established to decide on investments.
Among the five men listed to take a seat on the commission, which includes Tevfik and Tamince, are Rixos vice president and Turkish lawyer, Mutlu Simayli, and Eugene Jaffe of Salford Capital Partners. Salford is an investment firm operating out of London at the time and reputedly owned by deceased oligarchs, Badri Patarkatsishvili, from Georgia, and Russian, Boris Berezovsky, both key players in the 1990s aluminium wars.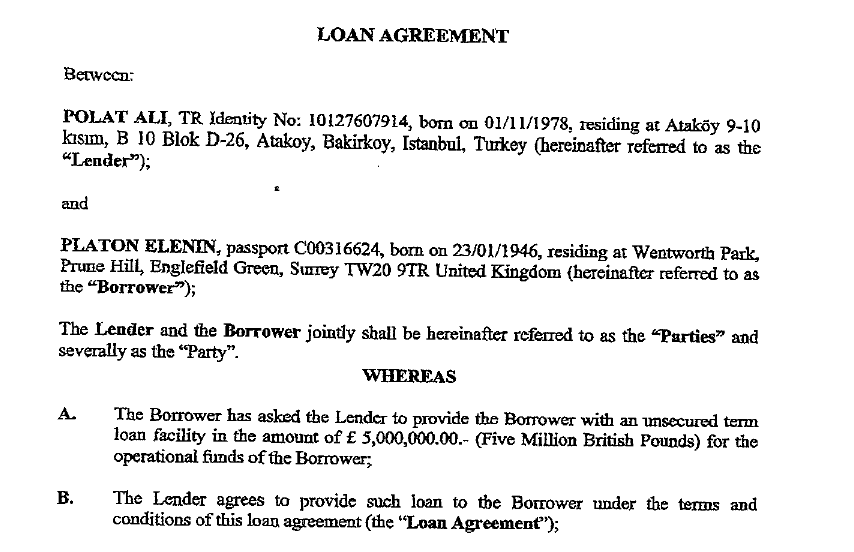 In 2010 and 2011, the Arifs provided Berezovsky – under his new name Platon Elenin - with two unsecured loans totalling 6.5 million GBP (around eight million Euro) to "help with his personal expenses". The loan, which was supposed to be repaid within 20 days, remained outstanding at the time of the exiled Russian's mysterious death in 2013.
Berezovky spent much of his past few years locked in an ill-fated legal battle with Chelsea owner Roman Abramovich, who he unsuccessfully argued had robbed him of billions of dollars in shares, including in Rusal - Abramovich's aluminium operation that subsumed the Chernoy's business.
Tamince and Arif have been partners since at least 1999, when Tevfik invested three million dollars in the Labada project - a five-star, all-inclusive hotel on the coast of Antalya, Turkey.
At that time Tamince was already a respectable entrepreneur, famous for escaping his humble beginnings as a teenage carpet seller and establishing himself as a successful jeweller. The Labada was one of his first moves into Turkey's lucrative tourism industry, and Rixos and Sembol were established to complete the construction.
The same year, Tamince and Tevfik started an import-export enterprise, Sardes Mucevherat Ticaret AS, importing luxury jewellery to Turkey. It was later accused of falsifying invoices to avoid taxes – a charge Tamince denies.
On the Rixos board is Ukrainian, Igor Gumenyuk, an associate of Rinat Akhmetov, owner of Shaktar Donetsk football team and one of Ukraine's richest men. For two decades, Akhmetov has used the legal system to fend off allegations that his wealth is the result of early associations with organised crime.
The Arifs are, too, connected to Ukraine. Sembol has three completed projects in Ukraine: the Victoria Hotel, the Metallurg Hotel Complex, and the "Donetsk City" shopping centre, a huge construction contract in which they partnered with Igor Gumenyuk.
The photograph of Arif Arif with President Erdoğan (below) was taken at the 9th Yalta conference in Ukraine on 14 September 2012, organised by oligarch Viktor Pinchuk. Arif attended the event upon the invitation of Pinchuk, who was Akhmetov's partner in the alleged corrupt purchase of the Ukraine's largest steel factory in 2004.
Tevfik's connections to the Kazakh trio and their good relations with Kazakh president Nursultan Nazarbayev may have benefitted Sembol and Rixos's huge public contracts in Kazakhstan.
In Turkey, it is likely that Tamince's fondness for the influential preacher Fetullah Gülen helped Tevfik establish connections within the government.
Tamince first met members of the Gülen movement, called 'Cemaat', in Van, a city in east Turkey, when he was 12 years old. In 2004, when Gülen and Erdoğan were on tentatively friendly terms, Tamince told Turkish media that he considered the cleric an "idol". Later, when he became wealthy, he gave money to the group.
Tamince would cut ties with the organisation in 2013, when Gülen and Erdoğan engaged in open conflict for control of Turkey's institutions, declaring that he had been tricked by Gülen and that he was "in love with Erdoğan".
The power of the Gülen movement in Turkey extends to the judiciary and law enforcement institutions. This might explain how Tamince may have cautioned Tevfik in April 2010 that police were tapping the phones of many of his employees, trying to gather evidence about sex trafficking [an accusation which Tamince denies].
According to the Savarona indictment transcript, on 27 April, 'Uncle' Gunduz - Gunduz Akdeniz, a man close to Tevfik who was involved in the Sardes jewellery company - calls Tevfik with a warning: "Two or three days ago, Fettah Bey came to Istanbul, talked to Vakyf [Vakif Arif] Bey, told [him] man-to-man" about the surveillance, apparently active for "about a year or two already." A lawyer involved in the case confirmed that 'Fettah Bey' is Fettah Tamince.
In response to questions by The Black Sea, Tamince said, "I have no relationship or contact with the after mentioned person Gündüz Akdeniz." [sic]
He also denied any involvement with Tevfik Arif, saying "I don't have any partnership with Tevfik Arif. At the companies I am shareholder of, Tevfik Arif doesn't have any shares or any partnership." He also denied interfering in the Savarona investigation.
Bayrock: "Mail, wire, and bank fraud, tax evasion, money laundering, conspiracy, bribery, extortion, embezzlement"
The same year that Tevfik and Tamince created a hotel and construction operation in Turkey, the Arifs established the beginnings of their property enterprise in the United States.
The offices of the new venture, named Bayrock Capital, were housed in the Trump Towers on New York's exclusive Fifth Avenue. Tevfik was seemingly impressed with the future president, even sending Arif Arif to the same New York military academy Trump attended in the early 1960s.
Tevfik appointed Burak Yeneroğlu as president of Bayrock. Yeneroğlu, who lives in a mansion opposite Tevfik in Miami, is closely associated with the Turkic-American Alliance, a known Gülenist organisation. According to filings, Yeneroğlu raised 652,000 USD for Obama's re-election campaign.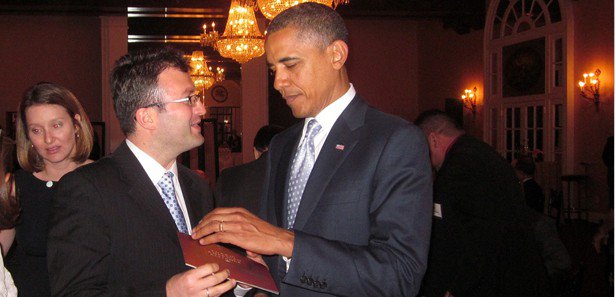 Working alongside Yeneroğlu was Bayrock's new managing director, Russian-born former Wall Street stockbroker and convicted felon, Felix Sater.
Like many of the Arifs' associates, Sater's history is colourful. In 1991, he stabbed a fellow broker in the face with a glass during an argument in a New York bar and spent a year in jail.
According to U.S. Supreme Court documents, upon his release Sater embarked on a "'pump-and-dump' penny stock fraud in partnership with "Russian and La Cosa Nostra career criminals." The mafia scam involved inflating the prices of near-worthless company shares before offloading them for massive profit, "bilking investors of at least $40,000,000" in the process. It would lead to his second conviction – this time for securities fraud and racketeering – in 1998.
But that wasn't the end of Sater. Following his conviction, he cut a confidential witness deal with the FBI and the New York United States Attorney's Office of Loretta Lynch – now Attorney General. He agreed to spy on his Russian mafia friends in return for keeping his convictions secret from banks and investors during development projects.
This pact, says the Supreme Court petition, "facilitated" Sater's effort to "commit a billion dollars of continuing predicate crime during the ten years following his conviction" - the same period he headed Bayrock. Incidentally, in the mid-2000s he was appointed as a senior advisor to Rixos and Sembol, a position he still holds.
Sater's criminal career was of little concern to the Arifs as Bayrock grew rapidly in the property market worldwide, using its hidden connection to Rixos and Sembol to boast to investors about real estate transactions "valued in excess of $2.5 billion USD".
Trump "has been helpful in opening some doors"
In 2007, Tevfik told Real Estate Weekly that his success stems from surrounding himself with the right people. One of these is Donald Trump, due to be inaugurated as the President of the United States next month. "He's been very helpful to us from the beginning and he's been very helpful in opening some doors," Tevfik stated in the interview.
"The strength of the relationship is: we do what we do best–and we're very active in what we do–and Trump does what he does best."
It was in 2005 that Bayrock and Trump began working on projects together. The most prestigious of these was the development of the 440 million USD Trump SoHo, a 46-floor "condominium hotel" in the wealthy district of Lower Manhattan in New York, completed in 2010. Many of the complex's residents are said to come from the Russian underworld.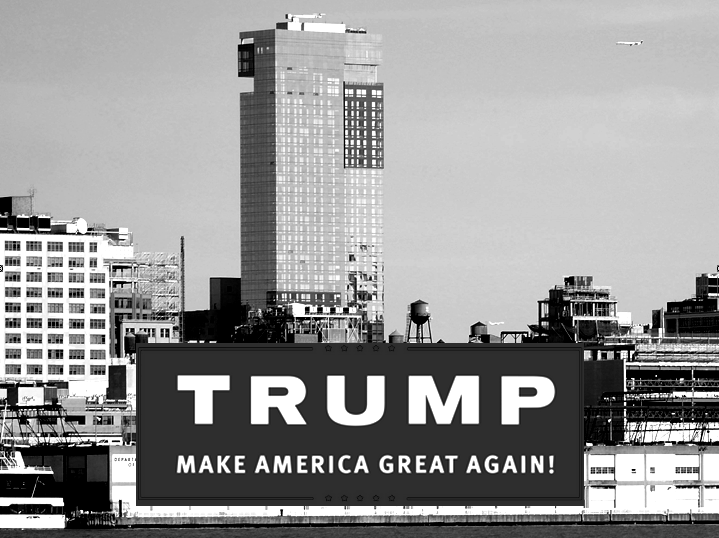 It is unsurprising, given the project's partners. One of the companies in the Trump-Bayrock consortium was the Sapir Organization, owned by Georgian property developer Sapir Tamir, known as the "Billionaire Cabbie".
Sapir emigrated to New York from the Soviet Union in the mid-1970s, where he took a job driving a taxi. He wouldn't drive a cab for long. In 1977, Sapir opened an electronics business on Broadway. The shop is said to have thrived because of the Russian mob connections and KGB endorsements facilitated by his business partner, Sam Kislin - the commodoites broker who helped the Reubens get a foothold in the natural resources industry. Sapir later moved into real estate, and by the time of his death in 2014, he was worth 1.4 billion USD, much of this in New York property.
"Threats of torture and death"
It wasn't long before Bayrock ran into legal troubles. In 2009, Jody Kriss, former Bayrock finance officer, who admitted he knew of the company's links to the Russian mafia, filed a lawsuit against the Bayrock, Tevfik, Sapir and Sater. Kriss alleged that Bayrock was little more than a mob operation, embezzling millions of dollars, defrauding the Internal Revenue Service and extorting money through threats of torture and death.
Tevfik was accused of running Bayrock as a "mere conduit hiding the source" of its money - the family's chrome refinery in Kazakhstan - and pilfering millions in dodgy loans. [Read more 'Donald Trump's disastrous relationship with the dodgy Kazakh business world']
"Bayrock does conduct legitimate real estate business," Kriss's petition states. "But for most of its existence it was substantially and covertly mob-owned and operated. Arif, Satter [sic], and [Julius] Schwarz [Bayrock's attorney] operated it for years through a pattern of continuous, related crimes, including mail, wire, and bank fraud; tax evasion; money laundering; conspiracy; bribery; extortion; and embezzlement."
Long after the bloody gangster fights of the early 90s, Sapir and Kislin were welcomed as guests at the weddings of Tevfik's children - along with the Kazakh trio, Musa Bazhaev, the Reuben brothers, Telman Ismailov - owner of Europe's largest bazaar, the Cherkizovsky Market in Moscow, a former hotspot for trading of billions worth of smuggled merchendise - Leonid Bilunov, a reputed Russian mobster operating in Monaco, and a long list of eastern European oligarchs and politicians.
Most of these guests are "the mafia. 100%", as one of the assistants of Mashkevich put it in an off-the-record interview with EIC partner Le Soir.
The illustrious guest list of the family's weddings represents an interesting crossover between the Arif's early connections to the business wars started after the fall of the Soviet Union, and their emerging prominence among the influential elite in Turkey, represented by the likes of Sitki Ayan, Fettah Tamince, and President Erdoğan himself.
It is Turkey where the Arifs chose to base their new operation in 2011, under a new banner: The Doyen Group.