Jean-Marie Michel Mokoko, a Congolese political prisoner, former army general and chief of staff to President Denis Sassou-Nguesso, was transported to Turkey for medical treatment against his will and has since been unreachable, his supporters and lawyers say.
Both Mokoko's lawyers in Congo-Brazzaville and Paris, and local activists, have voiced concerns for the safety of the 73-year-old former army chief, known as J3M, who has been in jail since 2016 on charges of planning to overthrow Republic of the Congo president, Sassou-Nguesso. The United Nations and human rights NGOs say the charges are politically motivated.
His lawyers said that no one has been able to obtain any information about Mokoko's whereabouts or his health since his arrival in Turkey on Friday, 31 July. His partner, who travelled to Turkey, is also unreachable.
At around 11 am on Thursday morning, Mokoko was loaded onto a Turkish medical plane, with a tail number TC-RSB. Videos shared with The Black Sea show him arriving at the capital Brazzaville's Maya-Maya airport in an ambulance escorted by a dozen armed security personnel in two jeeps. The air ambulance of the Turkish Ministry of Health can be seen on the tarmac. Flight records reveal that the plane landed in Ankara at 2 am on Friday morning, after a brief technical stop in Nairobi, Kenya.
Meanwhile, his companion, Nadège Ondziel, with whom Mokoko has a child, travelled on a Turkish Airlines commercial flight two days earlier and was expected to provide updates on Mokoko's treatment. She has not been heard from since.
Andrea Ngombet of the Brazzaville-based pro-democracy NGO Sassoufit Collective said that since arriving in Ankara, Nadège Ondziel has been forced to remain in the Congolese embassy and is not permitted access to anyone outside, including the press. The claim, which has no specific evidence, has been repeated by Mokoko's two lawyers. The Black Sea has been unable to contact Ms Ondziel.
Mr. Mokoko's legal team in Brazzaville say they are being stonewalled by both governments. Lawyer Me Locko told The Black Sea that "since [Mokoko's] arrival in Turkey, we have no news," and that "his companion Nadège is no longer reachable."
It is believed that he is being treated at the Ibni Sina Hospital of Ankara University in the capital.
A staffer at the Congolese embassy in Ankara told The Black Sea that they had no knowledge of Mokoko's visit, or whether Nadège Ondziel was being guarded at the embassy, but agreed to put our questions to the ambassador. These questions were not answered at the time of publication.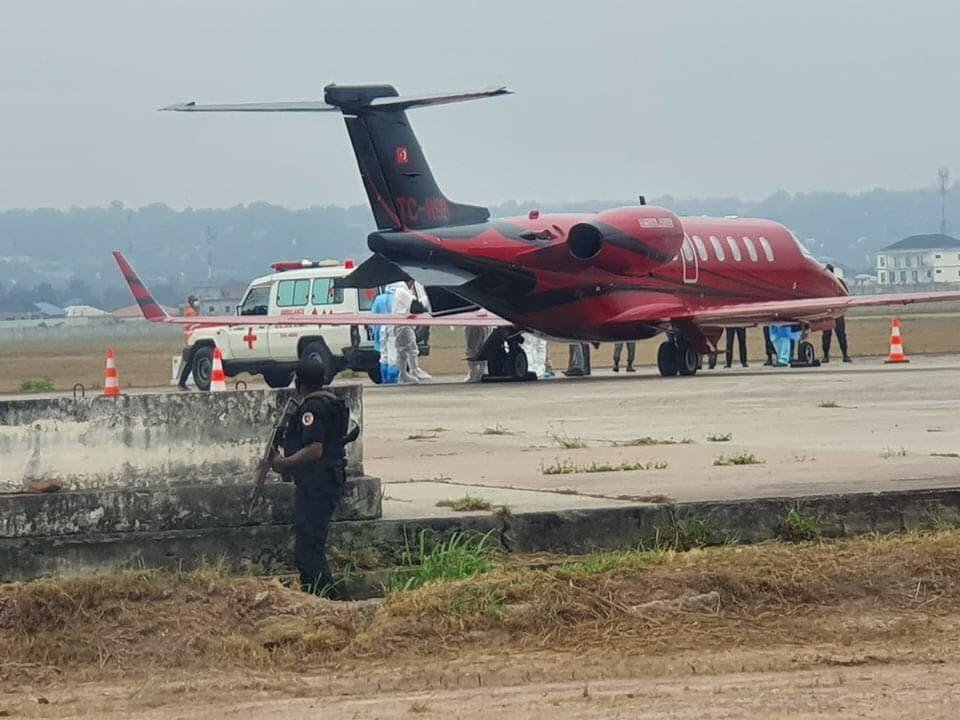 There is further confusion over what illness Mokoko is being treated for in Turkey. For months, his supporters called for the former general to be released into the care of his family to protect him from contracting Coronavirus. Then rumours began to circulate that he was in poor health.
At the beginning of July, Mokoko's lawyers made public statements that he had tested positive for COVID-19, and had been admitted to a military hospital in Brazzaville.
The Congolese government denies this, claiming that he is suffering from a severe case of malaria, which is not contagious. Mr Mokoko's French lawyer Etienne Arnaud seems to agree that it is possible that Mokoko has "a form of malaria and is very ill." None of the lawyers is certain whether he is also being treated for COVID-19.
The footage provided to The Black Sea shows Mokoko being carried into the plane by four Turkish health professionals in protective suits. We asked the Turkish ministry of health if this procedure was normal or indeed suggested that Mokoko was contagious, infected with an airborne illness, like COVID-19.
Air ambulences for foreign citizens
The use of Turkey's air ambulances is also unusual. Turkey has three special ambulance planes at the exclusive use of the Ministry of Health which are fitted with intensive care equipment. Each jet flies with at least one doctor and two health assistants on board.
The jets are used frequently in domestic and international routes to transport organs and Turkish patients requiring urgent care. There is no precedent for these jets being used to transport foreign citizens into Turkey for treatment.
Neither the Turkish Ministry of Health nor the Turkey's embassy in Congo-Brazzaville could be reached for comment on why the state sent an air ambulance to Congo to fly a high-profile political prisoner to Turkey.
Etienne Arnaud, Mokoko's lawyer in France, told The Black Sea that his client wished to be transferred to France or Morocco, where he is able to communicate in French with his doctors and would be well treated. But the decision was taken by the government to send him to Turkey.
"We don't trust President Nguesso," Arnaud said. "We wanted him to be sent to France for treatment. France wants Mokoko to be freed, so the government must have thought that he could ask for asylum there - whereas Turkey wouldn't bother Congo, [as they] would send him back."
Mr Locko, Mokoko's lawyer in Congo, confirmed this, saying the choice was not Mokoko's or his family's. "We were thinking of France, Morocco or South Africa, but never Turkey," he said. "In my opinion, he was sent to Turkey so that they could have control over him."
That Turkey agreed to treat Mokoko hints at a deal not to respect any asylum claim he may make.
General Mokoko was the chief of staff of the Congolese Armed Forces between 1987 and 1993. He is known to have been one of the most powerful Congolese figures during the country's bloody civil war in the 1990s.
In 2005, he was appointed as a security advisor to President Sassou-Nguesso and remained in his inner circle until a public split in 2015. The rift was caused by Mokoko's open dissent to the referendum on a constitutional amendment that would allow Sassou-Nguesso to seek a third term.
General Mokoko called the president's move "a constitutional coup d'état". The move passed and opposition protests turned bloody, with at least 18 people killed by the state's security forces.
Mokoko resigned from his post in 2016 and his popularity only increased as an opposition leader. He then declared his intention to run against Sassou-Nguesso in the forthcoming elections.
President Sassou-Nguesso, who has ruled the oil-rich Congo for most of the last four decades, and his family have been subject to high-profile corruption and money laundering cases in several countries.
Sassou-Nguesso won the 2016 election with 60% of the vote. Mokoko came third with 14%. There were widespread allegations of vote rigging and complaints that the election had taken place under a mass communications ban. When Mokoko contested the results, calling them fraudulent and "stolen," he faced criminal charges of "breaching internal state security" and was promptly jailed. The Sassou-Nguesso government claims to have brought these charges because Mokoko headed a coup plot back in 2007.
Mr Mokoko was sentenced to 20 years in prison in 2018. The UN Working Group on Arbitrary Detention condemned the verdict and called for his immediate release. There have been similar campaigns by human rights groups, such as Amnesty International.
---
OPENING IMAGE: Congolese independent presidential candidate Jean-Marie Michel Mokoko arrives at his closing rally in Brazzaville on March 18, 2016 ahead of Sunday's Presidential elections. (MARCO LONGARI / AFP via Getty Images)