Ahmet Bulut is Turkey's most famous football agent. The 47-year-old former Galatasaray goalkeeper, nominated for Best Agent at the Globe Soccer Awards in Dubai last year, counts among his flock ex-Inter Milan midfielder Emre Belözoğlu and ex-Newcastle United striker Demba Ba - but the piece de resistance is Barcelona and Turkey superstar Arda Turan.
Last year, he engineered Arda's €34-million mega-move from Atletico Madrid to Barcelona, further confirming the 29-year-old as Turkey's most expensive ever player. Bulut boasts of close ties to the game's "super-agents" Pini Zahavi and Jorge Mendes, and Fali Ramadani, the Macedonian intermediary with great influence over southeast Europe's football transfers. The bio on his website, footandball.com, says he represents Mendes's interests in Turkey.
Like his purported Portuguese associate, Bulut's deals are murky. Documents contained in the Football Leaks cache show that on at least two occasions Bulut took huge commissions from both clubs and players during transfer and contract negotiations, in apparent breach of FIFA's and the Turkish Football Federation's conflict of interest rules at that time. Over a million Euro earned through these dodgy back-room deals was to be funnelled into his tax-free, offshore company in Dubai.
The 1.9 terabytes of leaked data, obtained by Der Spiegel and analysed over the past eight months by journalists at The Black Sea and ten other European media as part of the European Investigative Collaborations (EIC) network's 'Football Leaks' project, provides a rare insight into football's dirty affairs, as well as the role of agents like Bulut, getting rich by wielding significant power over their clients' careers.
Child star to Turkey's most expensive player
The meteoric rise of the 29-year-old Turan - often referred to by his first name, Arda - from a poor Istanbul neighbourhood to the grandiose surroundings of the Camp Nou, started at the Turkish club Galatasaray in 2000, when he was still a child. The twelve-year-old wonderboy took only 15 minutes at a trail session for Turkey's most successful club to convince its coaches he was special.
For the next five years, the young Arda trained with the youth squad, before making his official debut on 22 January 2005, a week before his 18th birthday. By 22, he was the club's captain and a seasoned Turkey international.
The boy from Bayrampaşa had a big future. And Bulut was there to help him achieve this global stardom. For a fee.
The Turkish-German agent has been the driving force behind Arda's lucrative relocations to top Spanish teams, always steadfastly by his client's side, playing the role of the master negotiator. Arda's first ever transfer, to Atletico Madrid for 13 million Euro in 2011, ensured he became the most expensive Turkish player in history at the time.
Even in these early days, deals negotiated by Bulut were suspect. Copies of Arda's four-year employment contract, analysed by The Black Sea, show a standard salary of 2.5 million Euro per year. But in addition to the hefty bonus clauses, the document stipulates that Atletico reroute 15 per cent of his wages, untaxed, to an unnamed image rights company. And if Arda's company is in an offshore jurisdiction with low taxation, he may have saved himself hundreds of thousands in taxes.
Spanish tax authorities are now scrutinising players' use of images rights companies, suspecting that the schemes are facilitating tax evasion on a huge scale. Officials at the Agencia Tributaria – the Spanish tax agency - launched investigations into several La Liga stars in recent years, including Lionel Messi, Neymar and Javier Mascherano. Not only were they forced to pay millions in back taxes to the state, the trio, and others, faced criminal charges.
In July, a Spanish court convicted Messi and his father of tax evasion and sentenced them to 21 months in prison. They served no time, but were forced to pay 3.5 million Euro in fines. Mascherano received a one year sentence. Neymar, who was convicted of fraud and made to pay 45 million Euro to Brazilian authorities, is still under investigation in Spain.
Since EIC's Football Leaks investigation kicked-off last Friday, new allegations have emerged against some of the game's biggest names. Real Madrid star Cristiano Ronaldo, Arsenal's Mesut Özil, and Manchester United manager Jose Mourinho all appear to have exploited similar schemes, and are now under fire to provide evidence that the millions of Euro they stashed in low-tax havens were properly declared to tax authorities.
Neither Bulut or Atletico responded to questions about where Arda's image rights company is based.
"Never on the club's side"
Meanwhile, over the next two seasons, Arda played a leading role in the Atletico Madrid line-up and, by the summer of 2013, Bulut was lobbying for a better deal for his prized asset - and himself. Atletico, keen to retain their star's services, convinced the Turkish captain to sign a new contract in September 2013 which media reports say increased his earnings by a million Euro a year. The agent had done his job.
Bulut claims that his success is down to his devotion to ensuring that his players "sign the best contract" for them. "That is why they pick me," he added, "because I am never on the club's side." But another previously undisclosed contract details a hidden financial arrangement between the agent and Atletico Madrid, suggesting a significant conflict of interest in the negotiations.
The "Commission Agreement", dated only one day after Arda signed his own contract, shows that the Spanish club agreed to pay Bulut 1.5 million Euro into an offshore account if he could "manage and promote the negotiations so that the player ARDA TURAN… will renew his labor contract" with them.
This lucrative side deal was prohibited under FIFA's agents' regulations which, until it was effectively abolished in April 2015, stated clearly that "agents may only represent the interests of one party per transaction," and go on to say that Bulut should not have had any "representation contract, a cooperation agreement or shared interests" with Atletico during the "completion of the employment contract."
The 2015 changes to the conflict of interest regulations state that no conflict exists if an agent "discloses in writing any actual or potential conflict of interest… and if he obtains the express written consent of all the other parties involved prior to the start of the relevant negotiations." Bulut did not respond to questions about this deal with Atletico. The Spanish club declined to comment on whether it paid Bulut to "manage and promote the negotiations" in their favour, instead issuing a brief statement claiming that its affairs are "subject to strict confidentiality."
Rafael Alique, spokesperson for Atletico Madrid, went on to say that "the club expressly states that in all the cases, it has strictly fulfilled all and any of its obligations required by applicable Law at each moment, including tax Law and sports regulations."
To "bribe" or not to bribe
If Atletico really did not intend to influence the negotiations by paying Bulut such a large fee, then the purpose of the agreement may be connected to similar cases uncovered by EIC's investigation. The reporting shows how the practice of clubs paying agent fees for player's behalf is not uncommon, and can be a way to reduce their taxes.
European clubs, like Atletico, hire their talent; players aren't self-employed. Arda's reputed salary bump to 3.5 million Euro a year is what remains after Atletico pays his income taxes. If Bulut's 1.5m fee was included, Arda would likely have to pay an extra 315,000 Euro to cover Spain's 21 per cent VAT. Instead, should Atletico Madrid pay Bulut's commission, it can, as a business, write it off as an expense, and save Arda and itself thousands, or even millions, in the long term.
This was the case with Arsenal and former Real Madrid midfielder, Mesut Özil, as reported by The Black Sea last week. During his transfers to Real Madrid and then Arsenal, the clubs paid his agent's fees for him. In February this year, the Agencia Tributaria judged that these payments were an "income advantage" to Özil, and that it was he, and not the clubs, who should have paid the fees –since the agent was acting on his behalf. Özil had to shell-out 2.17 million Euro in fines over his scheme.
Bulut's Atletico agreement also contains two other curious additions: The first requires that Atletico pay the 1.5 million Euro into an offshore account at Mashreq Bank in the United Arab Emirates, in the name of Bulut's Dubai company, Foot & Ball Sport International FZE, an organisation not registered to carry out agents' activities.
Dubai's 'Free Zones' are tax-free special economic areas offering maximum confidentiality and minimum documentation to foreign entrepreneurs.In June 2013, Bulut assisted Jorge Mendes's company Gestifute Ireland in the transfer of Bruno Eduardo Regufe Alves from Zenit St Petersburg in Russia, to Fenerbahçe. For this, Mendes split the commission fee, and Bulut walked away with another 187,500 Euro in his Dubai account.
These offshore payments, and half a million in later fees also designated to the account, were not declared in Turkey, Bulut could have potentially saved anywhere between 4000,000 and 700,000 Euro in taxes. Bulut did not answer respond to questions about his offshore company and tax affairs.
"Transfers conducted through foreign offshore companies help black money come into the system"
Tugrul Aksar, a bank manager and expert on football finance who co-founded the Football Economy Strategic Research Centre in Istanbul, told The Black Sea that these schemes are designed to launder money and make it untaxable: "Transfers which are conducted through foreign offshore companies help black money come into the system, but it also is one of the most effective instruments used for tax avoidance." He said.
"The agency system, hand in hand with FIFA, robs from football, exploits players and corrupts the sport," Aksar added. "It is the utmost structure destroying the game. The biggest sin about this belongs to FIFA."
Another clause in Bulut's contract with Atletico entitled the agent to ten per cent of Arda's future transfer fee, or ten per cent of any compensation payment Arda might be due if the club terminates his contract early - effectively a form of 'Third-Party-Ownership' (TPO), and against FIFA rules in force at the time. Article 29 of the Player Agents' regulation enacted in 2008 states clearly that agents are prohibited from "owning any interest in any transfer compensation or future transfer value of a player."
Ahmet Bulut said at the time of the new deal that, "the Spanish system requires clubs to declare a player's possible transfer fee and they put Arda's as 41 million Euro, which makes Arda the most expensive player at Atletico." Sitting on a potential goldmine, it was unsurprising when a year later, at the start of the 2014/15 season, Bulut talked up a big move for his golden boy. Speaking in Turkish to a local paper in October 2014 he said, "If a transfer is going to happen, it needs to be one of the top eight clubs in Europe. Otherwise we won't do it."
Over the next season, Arda's stock rose, and he began to pique the interest of the likes of Manchester United and Chelsea. Arda was keen on a move to England. But in May 2015, apparently unknown to Atletico or Arda, Bulut was conducting secret talks with Barcelona.
Atletico ignored the questions about its knowledge of the talks, but in later interviews, Bulut was not shy about admitting that he facilitated Barcelona's 'tapping up' Arda, the term used to describe the process of clubs or agents engineering unauthorised transfer talks, or encouraging a player to break a contract.
FIFA rules should have prohibited Barcelona approaching Arda without written permission from Atletico Madrid; for agents, FIFA kindly removed these stipulations from its Agent's' Regulations a month before the deal.
Bulut, however, likely ran afoul of Turkish Football Federation (TFF) rules with whom he is registered as an agent. Rules introduced in June 2015 state clearly that agents are not permitted to "carry out activities that would encourage a player to terminate his professional player contract before its natural termination date. … unless the contract club has given open, written permission."
Rasim Artagan, media and communications executive of the TFF told the Black Sea said that the organisation's legal department prohibited him from commenting to the media on allegations against Bulut unless there is a court case underway.
Artagan did say that the TFF rules, applied to Bulut's activities, "are official regulations, which means we have to oblige them 100%," but fell short of saying TFF would launch an investigation.
Arda: beats his own transfer record
On 11 July, Arda became Barcelona's fourth most expensive squad player, and seventh in its history, signing a five-year contract with a four million Euro basic salary. Bulut says that Arda cried with happiness. During an interview at Istanbul airport before flying to Barcelona, Bulut, accompanied by Arda, said, "I was talking to Barcelona and we agreed on the transfer. A couple of weeks after this meeting, we went to Ibiza. We talked to Atletico's owner and president because they didn't want to let Arda transfer. Thankfully, they didn't want to upset Arda."
Arda's comment that he "had no involvement in the transfer. This is completely the success of my manager, Ahmet" shows the power he placed in the former goalie's hands. Atletico President, Enrique Cerezo, said of the whole affair that there were some big companies in Turkey playing a major role in Arda's transfer to Barcelona. Appearing on Spanish Cadena Cope radio, he explained that "Arda wanted to play in England. But some commercial interest and advertisement agreements prevented this. Things happened so quickly that we couldn't say anything. Turkey is a big country and Arda is becoming an idol. Certain circles wanted Arda to play in Barcelona and they succeeded."
Arda's start at the Camp Nou was stalled until January this year because of FIFA sanctions. The team was banned from purchasing new players because of breaching rules on the number of minors. Neither party would comment whether the ten per cent transfer payment due to Bulut as per his 2013 commission agreement were ever paid.
From 'worst goalie' to 'best agent'
Bulut was born in Adana, Turkey, in 1969. Aged two, he moved with his parents to Villingen in south-west Germany, located near the border with Switzerland. It was in Switzerland where he began his career, at age 20, as a professional goalkeeper with Brüttisellen in the Nationalliga (National League), before joining Galatasaray at 23.
By his own admission, Bulut was never going to be a superstar. Or even mediocre. In fact, he willingly describes himself as "the worst goalkeeper in the history of Turkish football." Towards the end of his career, he played in Turkey's lower leagues, before retiring in 2000, aged 31. The next year, he obtained his agents' license from the Turkish Football Federation.
Bulut said that it was while at Galatasaray in his twenties that he noticed he had a gift for player management: "A couple of my teammates were not happy with their managers," he said. "Emre [Belözoğlu] told me, 'you should do it'. They gave me a chance, and I took it well."
In 2006, he was named in the UK government's 'Stevens Inquiries' into allegations of corruption in player transfers. Stevens was suspicious about Bulut's financial dealings in Emre Belözoğlu's 3.8 million GBP transfer from Inter Milan to Newcastle United in 2005. The report said that Bulut refused to answer questions.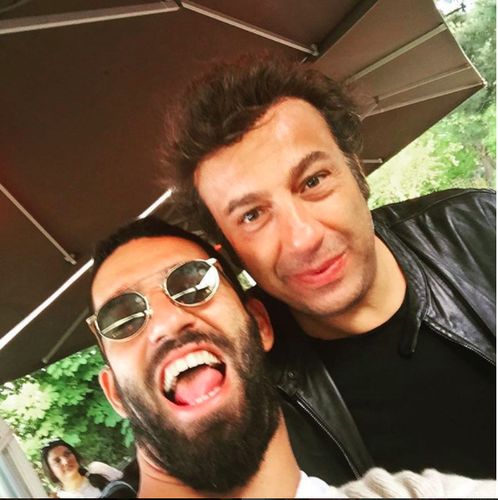 Questionable associate in Brazil
Bulut's strange dealings extend beyond his own players. In addition to his reputed close relationship with Jorge Mendes, the former goalkeeper did business with influential Brazilian agent, Eduardo Uram, and his Brazil Soccer Sports Management company based in Rio de Janeiro. Uram is a controversial figure in his homeland, and is currently part of an investigation over his some of Brazil Sport's questionable transfers.
Discussions between Bulut's Turkish enterprise and Brazilian Soccer reveal cross-dealings during the transfer of Uram's Brazilian footballer, Jose Fernando Viana de Santana, from Clube Atletico Paranaense (CAP) to Fenerbahçe on 25 June last year.
According to a series of email discussions and contract negotiations between the two organisations, Bulut was again cashing-in on multiple fronts, taking money from both CAP and Fernandão to assist in the 3.5 million Euro transfer.
For his services, Fernandão paid Bulut 350,000 Euro - again the cash was to be paid into Foot&Ball Sport International's account in Dubai. bring the total amount Bulut siphoned to his Dubai account to two million Euro in total.
From Clube Atletico Paranaense, Bulut earned a yet another fee for the same work. This contract stated that 500,000 Euro was to be paid to Bulut's Turkish organisation, Futbol Enternasyonel Men. Tur. Ins. Teks. Ltd. Sti for "services about the signing of the transfer contract between [Fenerbahçe] and [Paranaense] regarding the transfer of the [Fernandão]."
Although Uram himself took one million euro from Fenerbahçe for the deal, there was a forth agreement in place, this time directly between the two agents. Bulut personally paid Uram €200k, 40% of the commission from Clube Atletico Paranaense "in consideration that the [Brazil Soccer & Bulut] actualize the transfer of the PLAYER jointly and acted together."
This time, Bulut appears to be in breach of TFF rules introduced earlier that month. The new laws state that agents like Bulut "should avoid all conflicts of interest" and not be in any "common interest [,] cooperation [,] or representation relationship during a transfer or contract negotiation with the opposing party of their managers," unless agreed in writing be all parties.
FIFA "not taken into consideration"
For Bulut, it seems that laws and regulations that affect his work are something to be dismissed with the stroke of a pen. All Bulut's professional agreements found in the Football Leaks data contain a curious clause. The contracts, seen by The Black Sea, contain a specific language dismissing FIFA's regulations, including the earlier ones with Atletico.
"The Statutes and Regulations of FIFA, including the RSTP [Regulations on the Status and Transfer of Players], and of sport federations and confederations in national and international level shall not be considered".
Why Bulut imposes an unenforceable clause in his contracts is revealed during a discussion last year with Uram's legal representative, Stefano Malvestio. Malvestio objected to its inclusion in the Fernandão commission document. He wrote to Sami Dinç, partner in Turkish firm Koçak & Dinç, Bulut's lawyer and legal advisor to Fenerbahçe in late June 2015.
"The only thing we cannot really accept under a legal point of view is that [Fernandão] cannot sign a contract stating that the FIFA rules do not apply," he said. "This is really impossible, as he would be immediately sanctioned for that. We hope you will understand."
Dinç explains in the draft copies of the one of contracts that, "the reason of not to consider the FIFA rules are that the company [Foot&Ball in Dubai] is not registered before any national federation and this transaction would not been announced according to new FIFA rules [sic]." Football clubs governed by FIFA must ensure that any agent they hire is properly accredited.
Clube Atletico Paranaense did not answer The Black Sea's questions, and nor did Bulut. "If there are multiple transactions regarding the transfer of a player and if there are secret agreements, this is hundred percent about laundering the money and/or a tax avoidance operation," says football finance expert Tugrul Aksar.
The specialist added that: "FIFA still doesn't implement serious sanctions for these issues. Financial interests prevent certain precautions from being taken. The law remains insufficient."
FIFA did not wish to comment.