Turkey's Football Federation (TFF) allowed clubs to make over 30 payments to unregistered agents for player transfers, according to documents seen by The Black Sea. The federation conceded, in letters to FIFA, that in 2015 and 2016, clubs paid over €4 million to foreign and Turkish unregistered intermediaries, as well as to offshore companies, as part of commissions for domestic and international transfers.
The Black Sea also discovered that in five of the 30 cases there is a discrepancy between the fee stated in the TFF's records and the real contract value, which is, in each instance, significantly higher.
Football Leaks documents obtained by Der Spiegel and shared with The Black Sea, and its partners in European Investigative Collaborations (EIC), show that in 2016 FIFA investigated the TFF's failure to uphold reporting standards.
The TFF did not respond to questions from The Black Sea, while FIFA stated that "a warning was imposed" on TFF for failing make its agents records public on time. FIFA did not tackle the problem of agents operating in the Turkish market without proper licenses, and told The Black Sea that the "responsibility for imposing sanctions for infringements committed by intermediaries fall under the competence of the member associations."
This is not a problem Turkey appears to have taken seriously. A review of the TFF's most recent publications shows a significant number of dubious transactions by individuals not included on the federation's official list of agents.
Illuminating the murky world of agents
The documents on agent fees stem from inquiries made over several months in 2016 and 2017 by Kimberly Morris, the head of FIFA TMS Integrity and Compliance department, which monitors transfer activity and ensures football authorities meet transparency rules.
FIFA enacted new reporting procedures in April 2015 that required all licensed football associations, such as the TFF, to provide annual information on every individual who benefited from work as an intermediary – the official term for a player's agent.
The following March, as the deadline for the first data release passed, the Turks failed to comply with these rules. On 6 July, 2016, Morris writes to Evrim Tarlig, the federation's TMS manager, reminding him that the organisation is "required to make publicly available on an annual basis… the names of all intermediaries your association has registered as well as the single transactions in which they were involved."
A few weeks later, the federation finally published some details on its website, but had clearly taken a narrow view of the rules, opting to obscure the value of each agents' commission. It instead listed the "total amount of all remunerations made to Agents."
Privately, the TFF had easy access to the full data. On the same day, 20 July 2016, that it issues partial information on its website, the federation's general secretary Kadir Kardaş replies to Morris with a letter containing a list of 18 payments made to Turkish agents: 1.18 million in euros and 2.90 million in Turkish lira.
The correspondence includes a second document showing that, in fact, clubs paid at least three times more in fees, but these were, Kardaş writes, "payments made to the intermediaries who are not registered to the TFF and involved in transactions with Turkish clubs". The real figure is €4.31 million and 5.37 million Turkish lira.
FIFA requires that any person acting as an agent in any capacity must register as an intermediary with an appropriate body. Therefore any agent carrying out domestic transfers in Turkey must be licensed in this country. Foreign agents involved in international transfers with a Turkish club must sign a FIFA 'intermediary declaration form' and certify that they are a licensed agent, and ensure that a copy of the intermediary agreement with the player is submitted to the TFF.
Morris informs the TFF's Tarlig that the federation is "required to register an intermediary each time that an intermediary is involved in a specific transaction."
The Turkish Football Federation, as all FIFA-licensed associations, must sign off on all transfer documentation and input it into the TMS – Transfer Matching System – designed to promote transparency in the game.
"According to your information," Morris continues, "it appears that payments have been made to intermediaries who are not registered with the Turkish Football Federation but who were involved in individual transactions." She then asks for a "report of all intermediaries who are not registered with the Turkish Football Federation and who were involved in transaction with Turkish clubs. The report should contain the intermediary's name as well as the single transaction in which he was involved."
Kardaş then admits that the TFF had "knowledge of the transactions with unregistered intermediaries, when the relevant clubs submit their payment information to the TFF" and supplies a list of 30 transactions between agents and clubs, concluded in 2015 and 2016. These agents, he writes, "have neither applied for license or registration to TFF nor submitted signed intermediary declaration form."
Sports law professor at Loughborough University in the UK, Serhat Yilmaz, told The Black Sea that it is the responsibility of all parties to make sure that the paperwork is correct:
"All the submitted transfer data goes from the club level to the federation level," he said. "If all the transfer documentation from both sides matches, and there are no conflicts, then the federation proceeds to request the transfer certificates. The responsibility of the federation is to check and verify all the submitted information and documentation."
The document Kardaş provides to Morris and FIFA specifies that the 30 questionable payments were made by five clubs: Antalyaspor (in the city of Antalya), Akhisar Belediye Gençlik ve Spor (Akhisar), Bursaspor (Bursa), Çaykur Rizespor (Rize) and Fenerbahçe (Istanbul).
According to the data, Antalyaspor made the highest number, with fifteen payments. These totalled €2.1 million - more than 7 million Turkish lira, according to 2015 rates. The bulk of this money, over €1.06 million - 3.5 million Turkish lira - went to MEC Management Consultancy, the offshore company of Turkish agent, Metin Korkmaz, based in the Marshall Islands, where corporation tax is zero (the company was closed earlier this year). The fees were for services provided during the transfers of players Ramon De Moraes Motta, Omer Hasan Sismanoglu, Yekta Kurtulus, Sahin Aygunes and Charles Fernado Basilio da Silva.
Antalyaspor also paid €300,000 to the company of Korkmaz's business partner Özkan Doğan, for his part in bringing Cameroon striker Samuel Eto'o to the club. It is not clear in what jurisdiction Doğan's company, Coach Sport Management, is based. But Doğan and his firm were not named on Eto'o's employment contract, as required by FIFA rules.
On this contract there is also no mention of Eto'o's regular agent, Wilfried De Happi, whose CPWS Global Management appears on the list of supposed non-registered agents along with a payment of €200k. A further €120,000 commission for the transfer of Cameroonian central midfielder, Jean II Makoun, which the TFF claims was not properly registered. Di Happi did not reply to questions by the The Black Sea.
Antalyaspor made other problematic payments. The TFF states that the club facilitated a commission of €90,000 – listed as 295,000 Turkish lira on the documents – to Refleks Menajerlik Ltd. Sti, owned by Olgun Peker. Also not a licensed agent, Peker has a long-standing connection to Turkish organised crime, specifically though the Turkish mafia figure, Sedat Peker, whose surname Olgun adopted out of admiration. Sedat has for years been accused of running Turkish illicit sports gambling as well as other criminal activities. FIFA rules state that agents should have an "impeccable reputation".
Olgun himself was arrested in 2012 over allegations he supplied copies of the TFF exam to prospective Turkish agents. He was later acquitted, as were others accused in the case.
There are also concerns over the paperwork for commissions to two companies during Antalyaspor's transfer of the Brazilian attacking midfielder Guilherme: €179,625 to Brazilsport, the firm of Spanish agent Ivan Suarez; and €235,732 to El Reda Management. El Reda appears to be based Lebanon, has an unclear owner, and seems to be linked to an individual, Mohamad Reda, who could not be reached for comment.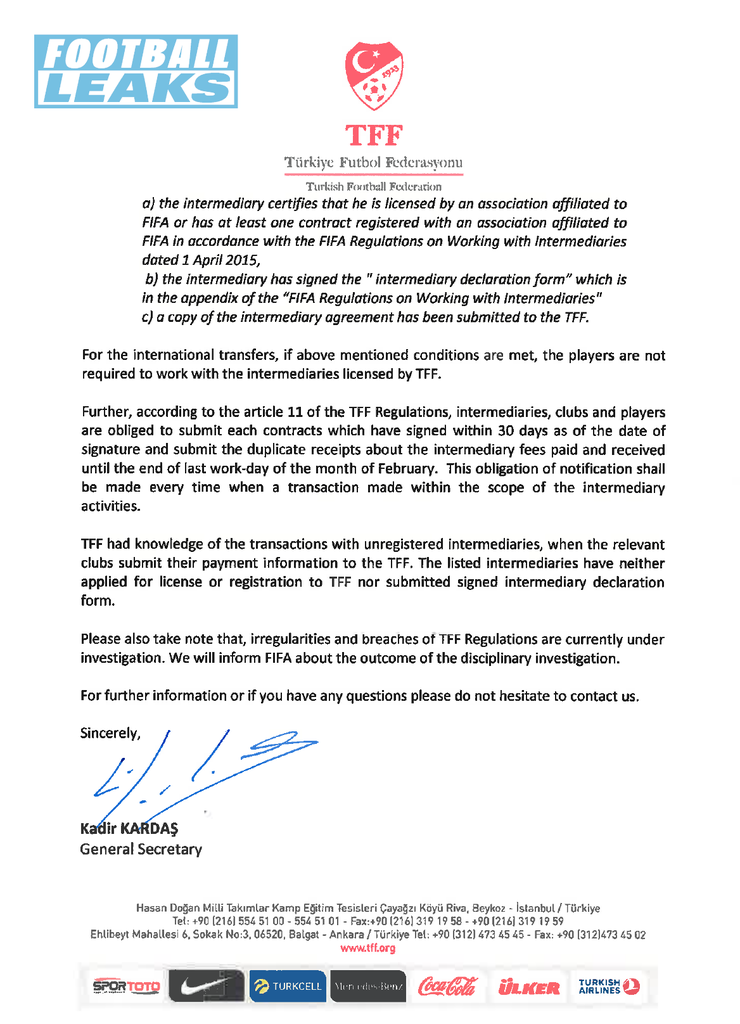 Missing details on top Istanbul club transfers
The documents also reveal Fenerbahçe's failure to obtain or provide proper details on agents to whom it paid over €1.4 million, while also routinely failing to include on its contracts the names of intermediaries involved in negotiations. The largest of these was a €600,000 payment to the Monaco company of Italian agent, Federico Pastorello, for ex-Manchester United midfielder Nani's move to the Istanbul club, in July 2015. Pastorello's company P&P is not listed on Nani's employment contract with Fenerbahçe.
Three more companies arranged commissions of €200,000 each: B&C Consultoria E Assessoria Esportiva LTDA, Brazil Soccer Sports Management LTDA in Brazil, owned by the agent Eduardo Uram; and Beckster International, the Monaco company of Danish player-turned agent, Mikkel Venge Beck.
The TFF claims that the club Akhisar Belediye Gençlik ve Spor paid over €333,000 for agent work on behalf of player Joel Landry Tsafack Nguemo, Leocisio Julio Sami, Milan Lukac and Hugo Rodallega – the latter involving El Reda Management SARL and Mohamad Reda.
The Bursa-based club, Bursaspor, paid €175,000, according to the files, to unregistered agents for the transfers of Czech centre-back Tomas Sivok and Chilean attacker Cristobal Andres Jorquera.
Among the commissions declared to the TFF are three from Fenerbahçe and two from Antalyaspor which do not match the clubs' private records, according to documents obtained by The Black Sea and the EIC network.
In the TFF report, Antalyaspor paid commissions of €179,625 and €235,732 to Brazil Sport Assessian LTD and El Reda, respectively, for Brazilian Guilherme's transfer from Brazilian club Atlético Mineiro, in 2015. A copy of an audit of Antalyaspor's accounts during this period, however, shows payments of €371,400 to Brazil Sport and €300,000 to El Reda Managament. Neither company could be reached for comment.
Similarly, the TFF records a €165,000 payment to a company called B.E.S.D. Sport Management for work on the transfer of Czech defender Ondrej Celustka; the audit states this is more than double: €350,000. It is not clear who owns B.E.S.D or where it is located.
The third payment discrepancy at Antalyaspor concerns fees to Metin Korkmaz for Brazilian midfielder Charles Fernando Basilio da Silva – known simply as 'Charles'. The TFF puts the payment to MEC at 170,000 Turkish Lira - around €51,000 - but leaked audit report lists it as many times higher, at €153,000. MEC did not answer questions.
The two cases at Fenerbahçe concern the transfers of Danish centre-back Simon Kjær and the Brazilian centre-forward Jose Fernando Viana de Santana, known as 'Fernandão'. Kjær's employment contract, contained in the Football Leaks cache, states Beck's commission paid to Beckster International, was €980,000, but the TFF logs it at only €200,000.
Beck told The Black Sea that his lawyer sent all of documentation to Fenerbahçe's in-house legal council, Sevra Kulaksız, when required to do so and that Kulaksız arranged the "go between" with the TFF.
On the matter of the discrepancy between his €980,000 fee listed on the contract and the €200,000 in the TFF log, Beck stated that he "had to appoint a Turkish Lawyer to collect the balance through the TFF (deduction from TV rights) because Fenerbahçe did not want to pay these sums in spite of several formal notices."
In an email, Beck also told The Black Sea that the €200,000 amount corresponds to the initial payment, with the remaining balance obtained through the assistance of the TFF after many legal threats by Beck's lawyer. Neither the TFF or Fenerbahçe would confirm this, and TFF did not list any further payments in its later disclosures.
The other case concerns compensation to the Brazilian agent, Eduardo Uram, during the transfer of Fernandão to Fenerbahçe, in 2015. During the first wave of Football Leaks stories, in December 2016, The Black Sea revealed how Turkish superagent Ahmet Bulut and Eduardo Uram had secretly arranged improper side deals which were never disclosed.
The new documents show that Fenerbahçe listed the Fernandão transfer fee to Eduardo Uram as €200,000. Previous files show that this figure was in fact €1 million, paid in three installments, two of €400,000 and a final one of €200,000 due early 2017. There was an additional €350,000 paid by Fernandão directly to Bulut.
But the fact that Uram had not provided the proper agent documentation to Fenerbahçe is detailed in discussions between the club's lawyer Sevra Kulaksız and Uram's team at Brazil Sport. Six months after Fernandão's transfer, in January 2016, Kulaksız tells Uram that she has "some bad news." Kulaksız had met with representatives at the TFF and was warned that the intermediary documents Uram provided to Fenerbahçe were "not sufficient enough".
The list of documents Kulaksız then asks Uram to supply suggest a significant amount of paperwork was missing, including Uram's signed agent contract with Fernandão, as well as "consent letter" from the player allowing Fenerbahçe to pay the fees to Brazil Sport directly. Uram should also sign the intermediary declaration form as a non-TFF registered agent, and a document proving he is "entitled to sign on behalf of" Brazil Sport.
The TFF file suggests that six months later Uram had still not provided these documents.
It is not clear what benefit there might be, if any, to misstating commission amounts, and there is no indication that there were deliberate attempts to conceal payments. One explanation is that the TFF is not competent in its accounting. Yilmaz suggests that these numbers might represent only the money disbursed, rather than a full commission: "The federation might have listed the agent payments they did during the reporting year," he said. "The FA [in England] had done this before and this was their explanation [when asked abut discrepancies]."
But the TFF's unwillingness to publish full information, and its practice of deleting previous years' data as it updates its list, ensures that transactions which took place prior to mid-2017, as well as historical lists of licensed agents, cannot be verified.
The TFF ignored questions on this issue.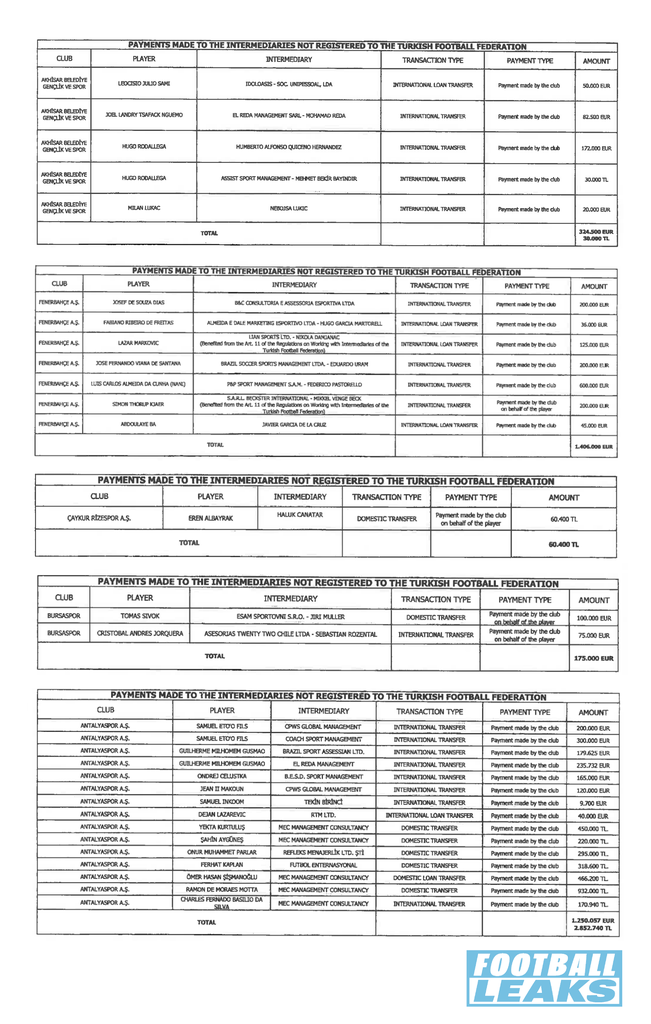 FIFA issues only a warning
While providing this information to FIFA, Kardaş tells Morris that these "irregularities and breaches of TFF Regulations are currently under investigation. We will inform FIFA about the outcome of the disciplinary investigation."
But the debate between the TFF and FIFA would continue far into 2017, as Morris pushes the federation to publish the fullest possible information, while Kardaş resists, claiming that the TFF is permitted to withhold data. He also states that there are "ongoing disciplinary inquiries about the differences between received information/documents and FIFA TMS records."
Morris is not satisfied. On 17 December, 2017, she tells Kardaş that she has sent "a detailed report of the results of all the steps undertaken with your association in relation to the present case is now being provided to the FIFA Disciplinary Committee."
Details of the deliberations with, or about, the TFF are not contained in the Football Leaks data, but FIFA all but admitted that it did not address the issue of unlicensed agents operating in Turkey. Instead the worldwide association chose only to warn the federation for its failure to publish agent data on time, a breach committed by dozens of other national federations.
There was no announcement about this warning, however. And the TFF did not disclose the outcome of its secret, internal investigation into unlicensed agents. Its latest disclosures of agent transactions still do not detail specific fees, but, more worryingly, they do display evidence that the federation continues to allow Turkish individuals to carry out intermediary work without licenses.
The TFF lists 115 specific transactions during the 2017-2018 season (2016 – 2017 is not available), and includes the names of the players, as well as the agent or the agent's company. Sixty-five of these are for international transfers – so it is not possible to know if the agent signed the proper forms. Forty-nine transactions by 37 agents are for domestic trades, including some contract renewals, and these require the agents to be officially registered with the TFF. But checks on these lists carried out by The Black Sea show that 14 of these 37 agents do not appear on the TFF official list of agents for that year.
The Black Sea asked FIFA for all copies of the TFF's yearly data on agents and was told that the association was unwilling to provide this because "the period 2016 -2017 is currently under investigation" and that FIFA therefore "cannot comment".
Read more Football Leaks stories
Additional reporting by Atilla Türker
---
Have any information to contribute to this story? Email [email protected]
(Opening photo: The logo and sign board of 'Turkish Football Federation' and flags of Turkey, TFF and FIFA, in Istanbul, Turkey, on September 22, 2018. (Photo by Emrah Yorulmaz/Anadolu Agency/Getty Images via Guliver)