Turkish superagent Ahmet Bulut once confessed to not really understanding football. An unlikely claim from a former professional goalkeeper, but for sure no one could ever accuse him of not understanding the football business; players want him representing them and clubs want his players. Even the football world's top agent, Jorge Mendes, chose Bulut as his partner in Turkey when he started doing deals there in 2010.
The extent of the relationship, however, as well as Bulut's role in the mass transfer of Mendes's players to the Turkish club Beşiktaş in 2010 and 2011, was obscure.
Dozens of emails, invoices, and contracts reveal that Bulut was a key player in during the transfer of seven players, and one manager, to Beşiktaş during Yıldırım Demirören's presidency. And that Bulut secretly earned almost €3 million in undisclosed fees from this partnership with Mendes, all of which he shifted to offshore companies not licensed to carry out agent activities.
Details of Bulut and Mendes's relationship and their secret deals are contained in a new cache of files obtained by the German news magazine Der Spiegel and then shared with The Black Sea and its partners in the European Investigative Collaborations (EIC) network.
The files reveal that between 2010 and 2016 Bulut transferred more than €5.5 million into two bank accounts, one of them in Switzerland in the name of a Liechtenstein company and the other in the United Arab Emirates. Liechtenstein, Switzerland and UAE are considered offshore financial jurisdictions because of their high level of secrecy and low tax rates.
During the first wave of Football Leaks stories, in December 2016, The Black Sea reported that Bulut had requested €2 million in improper agency fees to be sent to an account at the Mashreq Bank in Dubai, which he opened in the name of Foot & Ball Sport International FZE – a tax-free company. Some of these deals were also done in partnership with Mendes.
But the new documents reveal that Bulut made additional payments offshore for nearly twice this amount. The superagent sent €3 million to Zurich, to an account in the name of his Liechtenstein company, Cloud International Management Establishment. He moved a further €500,000 to the Mashreq Bank account of his offshore company, Foot & Ball Sport International FZE.
While owning foreign companies or bank accounts is not illegal, Bulut's secret businesses operate beyond the oversight of authorities in Turkey, where Bulut is officially registered as a football agent – through the Turkish Football Federation - and where he has his main Turkish agency. If Bulut did not disclose these foreign payments to the Turkish authorities, however, he could have potentially avoided between €1.2 million and €1.9 million in taxes.
The bulk of the cash originated from deals conducted by Gestifute, the Dublin-based company of Jorge Mendes, which is currently being investigated by Irish tax authorities. The €3 million Gestitue payments were for Bulut's assistance in the transfers of Portuguese players to Istanbul-based club Beşiktaş from 2010. As Mendes's representative in Turkey, Bulut facilitated negotiations between the club and Mendes and his Gestifute company. But the money came not from Beşiktaş, but from Mendes.
Neither Bulut nor Mendes appear to have disclosed Bulut's role in the transfers, or his payments, to the relevant authorities. Not to do so would be a serious breach of FIFA's and the Turkish Football Federation's rules. FIFA regulations state that any intermediaries taking part in transfers or receiving payments must inform its Transfer Matching System, known as 'TMS'. This registration system was set up by FIFA to increase transparency in player transfers between agents registered with foreign football associations.
Serhat Yilmaz, a professor of Sports Law at Loughborough University in the UK is an expert on intermediary regulations. He told The Black Sea that any involvement in a transfer, however small, must be declared to the national football association.
"The roles are well-defined," Yilmaz said, explaining that the rules cater for both "direct and indirect intermediary" activity. "Even a small involvement is a part of indirect activity," he added, saying that "being a registered agent only gives one license to do these things, but it is not enough. Bulut should have signed a representation contract with the club during these transfers."
In league with number one superagent Jorge Mendes
The business relationship between Mendes and Bulut started in the summer of 2010, after Bulut successfully convinced the Portuguese agent to transfer Quaresma to Beşiktaş. During the transfer talks they corresponded every day and even met in person at the luxurious Villamagna Hotel in Madrid.
Bulut had already made a name for himself in Turkish market ever since he obtained his FIFA players' agent license from the Turkish Football Federation in 2001. But it was not until his fateful meeting with Mendes in Madrid that his fortunes took on new proportions.
Leaked documents show that Bulut was actively involved in eight transfers during what Turkish football pundits dubbed the "Portuguese wave", a surge of Mendes players into Beşiktaş between the winter and summer transfer windows in 2011.
Bulut never denied working together with Mendes, but he failed to mention that all these deals were 'under the table', conducted through secret agreements that often landed the Turkish agent a 50 percent cut, despite having no official role.
Documents and bank records, seen by The Black Sea, show that on 17 June 2010, Beşiktaş paid Gestifute €2 million commission for the transfer of Portuguese player Quaresma from Inter Milan. A week later, Bulut issued an invoice to Gestifute for €750,000, along with instructions to pay the money into a UBS account in Zurich, Switzerland, in the name of Cloud International Management Establishment, based in Vaduz, Liechtenstein.
Liechtenstein is known to be a highly secretive tax haven offering maximum confidentiality to non-residents. The tiny European country has more shell companies than citizens, and is popular among the world's super-rich and businesses wanting to avoid taxes or hide assets.
Cloud International was set up by Bulut in 2002. It was liquidated in early 2017. The registry lists Bulut as Cloud's director, and the leaked documents have him admitting to being the company's owner.
Bulut helped Mendes move additional Gestifute players to Beşiktaş. A lot more. In the January and summer transfer windows of 2011, Beşiktaş bought or loaned six more Mendes players: Portuguese left-winger Simao Sabrosa, from Atletico Madrid, for €900 thousand. For this Gestifute was paid €1 million, more than the transfer fee itself. Two weeks later, on 14 January 2011, bank records show that Gestifute sent €455,000 into Bulut's Cloud International's account in Zurich, using the reference: "re) Simao Sabrosa".
Bulut's fees would only get higher. Around the same time as the Simao deal, Beşiktaş bought Portuguese forward Hugo Almeida. A private agreement was attached to the deal, whereby Beşiktaş president, Yıldırım Demirören, agreed to pay Mendes a €1.5 million commission. Ten days after Beşiktaş paid Gestifute's fee, on 14 January 2011, the Ireland-based agency sent a 50 percent cut to Bulut's account in Zurich, this time with the reference "Management Fees - Hugo Almeida".
By the summer of 2011, Mendes's influence over Beşiktaş and its president was undeniable. Even though the Turkish club was dealing with allegations of match-fixing and an increasing debt, it continued to transfer Gestifute players for high salaries and agent fees.
In July 2011, Beşiktaş bought Portuguese midfielder Manuel Fernandes. The player initially arrived as a part of a loan agreement. The club agreed to pay Gestifute €1 million as part of the transfer. Around the same time, Beşiktaş loaned Sidnei Rechel da Silva and Tiago Manuel Dias Correia - known as 'Bebe' - from Benfica for €200 thousand and Manchester United for €1 million.
The influx of Mendes players, known by the Turkish media as the "Portuguese gang", eventually became a huge financial burden on Beşiktaş.
After the president Demirören exited the club in February 2012 - amid controversy over financial mismanagement and match-fixing, the number of Portuguese players moving to Beşiktaş slowed. But Demirören left the club's new administration with €1.75 million in unpaid fees to Mendes, the result of improper deals Demirören signed during his tenure for the transfers of Sidnei, Bebe and Fernandes.
Beşiktaş's new board at first refuse to pay the bill. But eventually, the club settled the debt with a €1.5 million payment organised with the help of Ahmet Bulut and his lawyer, Sami Dinç, as reported by The Black Sea yesterday.
On 16 April 2013, two years after the initial transfers, Beşiktaş settled the bill for €1.5 million and wired the cash to Dinç's account in Turkey. The following day, Dinç paid Gestifute. Bulut was not forgotten. The same day, Gestifute signed a contract agreeing to pay Bulut €845,000, more than 50 percent of the recovered funds, for his and Dinç's assistance in recovering the cash. Gestifute sent the money to Bulut's Could International on 16 May 2013.
Besiktas did not answer our questions on whether or not they were aware of payments to Bulut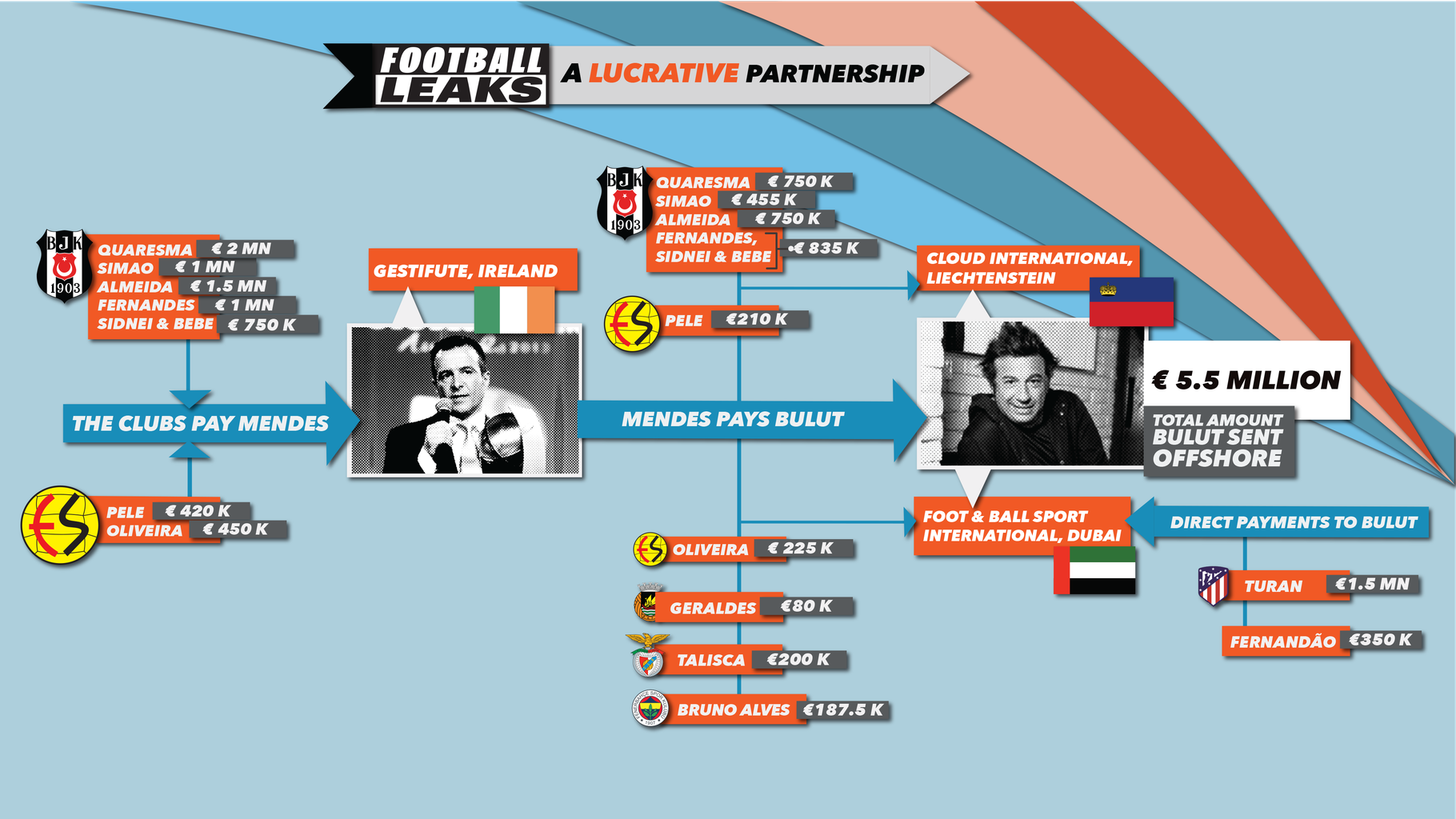 More to offshore: Pele, Geraldes, Oliveira and Talisca
The 115-year-old Beşiktaş seemed the place where Mendes and his players secured some of their best deals. But documents show Bulut also facilitated transfers of Mendes players to other Turkish clubs over the years.
Portuguese midfielder Victor Hugo Gomes Passos, known as 'Pele', is another Bulut/Mendes project. In 2010, Pele moved from FC Porto to the Turkish club, Eskisehirspor for €680,000 and Gestifute earned €420,000 in agent fees in the deal. Bulut received €210,000, again into Cloud International as 'Management Fees'.
In July 2012, Andre Geraldes De Barros, a Portuguese right-back, was sold by Rio Ave to Istanbul Municipality Club. The SWIFT document states that, in September 2013, Rio Ave paid Bulut's Dubai company, Foot & Ball Sport International FZE, €80,000. Email correspondence related to the deal shows that the money is likely only an instalment of a larger sum owed to Bulut as agent fees. The data, however, does not contain evidence of a subsequent money-trail from Rio Ave to Dubai.
Another Eskisehirspor transfer was Brazilian defender, Diego Angelo de Oliveira, who arrived in Turkey on a three-year deal from the Italian club Genoa in 2010. Eskisehirspor approached Mendes in 2013 to extend Oliveira's contract. The bank records show that for this deal Gestifute received €450 thousand. Not long after, Bulut's Dubai company Foot & Ball was credited, in two instalments, with €225,000.
Foot & Ball Sport International FZE, which is an entity not registered to carry out the activities of a football agency, is located in one of Dubai's "free zones". These are tax-free economic areas offering total confidentiality and minimum documentation to foreign businesspeople.
Tugrul Aksar, a bank manager and expert on football finance, who co-founded the Football Economy Strategic Research Centre, in Istanbul, told The Black Sea that these kinds of schemes are designed to hide money. "If there is an offshore transaction, it means that this transaction is preferred to be out of sight," he said, and warned that "such schemes pave the way for all kinds of speculative and manipulative actions, including money laundering, by taking the process out of the designated system. Agents and players also get rid of their tax responsibilities. Even though such transactions carry serious legal risks, the parties involved usually don't take notice of it."
One of the latest transfers of Bulut and Mendes is for Brazilian attacker, Anderson Souza Conceicao, known as 'Talisca', whom Beşiktaş loaned for two years from Benfica, in 2016. Documents in the new Football Leaks collection reveal that Bulut was paid by both sides in the deal, an activity known as 'dual representation', which is forbidden by Turkish football authorities and FIFA unless there is an explicit, written agreement between all parties acknowledging the potential conflicts of interest.
This time, however, Bulut instructed Beşiktaş to pay his €250,000 fee to his Istanbul company, potentially because a payment offshore for a Turkish transaction would alert authorities. But outside of Turkey was a different matter: Benfica paid Bulut's €200,000 into his tax-free Dubai account.
Neither Bulut nor Gestifute responded to our questions.
Atilla Türker contributed to this report
---
Know more about this story? email us at [email protected] (PGP key: 0x55A5B7073086179F)