Football is a ruthless business for clubs in the lower leagues of Europe. Fan expectations are high, but money is scarce. So when a mysterious Chinese investor turns up at the club HQ, offering €150,000 to inject into the team, links to football's massive fanbase in the Far East, as well as foreign players, this is an opportunity that's tough for a cash-strapped club to miss.
Such a vulnerable position is exploited by Eric Mao, a FIFA agent who uses a pan-national network to invest in minor clubs across the EU, with a promise to transfer Chinese talent and blood the players on a European pitch.
Using his company, formerly known as Anping Sports Agency, Mao and his entourage have been active in Portugal, Ireland, Romania, Latvia, the Czech Republic and now, it appears, in Spain.
But Mao is not a philanthropist, a playboy or a cool-headed businessman.
The Chinese agent is at the centre of a match-fixing network. His strategy is to buy a troubled or bankrupt club and, following a minor investment, hire his own players, coaches or administrators, many of whom are tainted by past scandals of match manipulation.
Mao's gang then force the team to lose matches by high margins as part of a betting scam involving, as we understand, Asian bookmakers.
Anping has been named as a "front for illegal match fixing operations" according to an investigation by the Qatar-based International Center for Sports Security (ICSS) seen by EIC Network, which calls Mao "a senior match fixing organizer and leader of a Singaporean match-fixing syndicate".
Together with journalism network European Investigative Collaborations (EIC), The Black Sea can demonstrate how the Mao technique works, using testimonies from players, clubs and Mao's colleagues, as well as leaked messages and confidential intelligence reports.
The Chinese agent and his entourage put their cash down at a club and stay for between six months and two years. During their period of supervision, the pattern is the same: the team loses matches by high margins, the morale at the club collapses, the fans stop turning up to the stadium, and the clubs usually face relegation, bankruptcy, or closure.
So far, investments by Anping or its related companies have ended in match-fixing scandals in Romania at Academia Clinceni and in Ireland at Athlone Town FC.
Worse, Mao's involvement is often the kiss of death for a football club, with one club linked to his network in Latvia disintegrating, and another in Portugal now bankrupt.
Following recent match fixing scandals, Mao is now working under the alias Harry Zhang, and is behind a new club in Spain's lower league of the Rioja region, Regional Preferente, according to new information given to EIC Network. The club is called Racing Rioja. The name of his company has also changed from Anping to Beijing Saint Rangers.
But Mao is not just an asset-stripper of lower-league football, EIC Network also exposes how the Chinaman's entourage is linked to organising players who pose as referees to fix international friendlies in Cyprus.
The core of Anping's group is formed by three Chinese citizens: Xiaodong Mao (Eric Mao), Xialong Ji (Bruce Ji), a 35 year-old fluent German speaker, and Xinxin Cao (Nancy Cao), a 28 year-old graduate of a FIFA Master in Sports Management. According to insider information, the three travel frequently between China and Europe and use Schengen visas for 90 days, while Mao switches his phone numbers, and only stays in Airbnb.
Also connected to the network is Greek agent Gavriil Papanastasatos. In 2014, he was an investor in Latvian club FK Jurmala and, in 2015, in Czech club MFK Vitkovice. Jurmala was the subject of a match-fixing investigation by UEFA, and we have new information that attempted fixing also took place at Vitkovice.
Aged around 36, Mao is "addicted to fixing" according to one of his colleagues and is "also a gambler". In a picture of Mao we obtained, the Chinese agent is sitting down, head bowed, holding a smartphone, engrossed in live football scores.
But Mao did not start out as a club owner and organiser of dodgy matches.
Believed to be a former TV sports journalist, he graduated in history from Beijing's prestigious Chinese People's University, according to the Asia Times. Since then, he registered on FIFA.com as a player and match agent with a Beijing address.
In 2012, Mao started his career in international football. Due to his proficient English, he became involved in global sports deals, at a time when Chinese investors were looking to buy teams in Europe.
We can reveal more about his background from Football Leaks documents obtained by the German news magazine Der Spiegel and shared with The Black Sea and their partners of the European Investigative Collaborations (EIC) network.
From July 2012, Mao worked with the UK football agency Base Soccer, according to a legal claim between an English agent and a Chinese football team, seen by EIC. Base Soccer now boasts some of the brightest stars of the English Premier League on its books, including Kyle Walker and Danny Rose of England, and Aaron Ramsey of Wales.
The claim centres on the move of an ex-Celtic player, Christopher Killen, to Chinese club Shenzhen Ruby FC. A Base Soccer agent asks Mao to use his good relations with the club owner, Wan Hongwei, to help recover around 60,000 USD the Chinese owe to the British.
Mao talks up his connections in Chinese football, and tells Base Soccer that he can even influence the Chinese FA to "ban the club" from making new transfers. When we approached Base Soccer about its relationship with a shady figure such as Mao, the agency did not respond.
Mao: bringing Maradona to China
Later, Mao was involved in the lucrative business of image rights, the license for all commercial and public appearances of a player. On 29 January 2012, Mao's company Anping offered a deal to double World Cup winner for Brazil, Ronaldo Nazario da Lima, for a five-year contract for his image rights across the Asian continent.
In an email seen by EIC, Ronaldo's representative at the company Top Team Brazil, Marcus Fraga, sends Anping's offer to a Brazilian lawyer, Marco Motta. In the email, he writes: "Based on the agreement they closed with Maradona, I think it can reach USD 3 million a year."
This indicates that Mao and Anping were already forging multi-million deals with arguably the greatest footballer of all time. The press was also following this story. On 30 July 2012, reputable Argentinian newspaper Olé published an exclusive on a possible move as a manager for The Golden Boy of Buenos Aires. "Is he going to China?" read the title.
Maradona met 'Chinese emissaries' in his house in Dubai. The newspaper published a photo of the FC Napoli legend and three others. Two are identified as "intermediary" Argentinian agents Diego Cativa and Daniel Dos Reis, who was quoted as saying: "Diego looked excited about the opportunity. Now the economic side is being discussed". The third man in the picture is Eric Mao.
Raid Number One: Atlético Clube de Portugal (2013-2016)
However Mao's business in wooing sport demigods to China did not kick off, so he headed to Europe with a new venture: investing in crisis-ridden clubs.
But his plan was not to finance development with a view to profitability in the long-term. Mao's real strategy is revealed in one of his recent WhatsApp messages that EIC Network has obtained, concerning his negotiations to purchase a lower league club in the Czech Republic.
"1. Give them 200k in 10 months 2. This head coach listen 3. My players will be played in friendlies and in league 4. My referee can play all friendly games 5. our manager 6. decide contract together with the owner"
The plan is for Mao to bring in a moderate cash injection, control the coaches and players, as well as the referees for friendly games, in order, as can be seen by later evidence, to influence the final score. This is important, as it means that if these games are available for betting on the multi-billion-dollar Asian markets, where punters with insider knowledge can cash in for wagering on fixed games.
In 2014, the first target for Mao was Atlético Clube de Portugal, based in Lisbon and in the Portuguese second league at the time. It was close to bankruptcy in 2013 when Anping Football Club Ltd bought up 70 per cent of the club. "It was reported that [Anping] would invest a significant sum of money in the club and would also help to service existing debts," states a UEFA report seen by EIC.
Soon Mao's right-hand man Xialong 'Bruce' Ji became the chairman of the board of directors, and ran the club along with Xinxin 'Nancy' Cao. Bruce Ji attempted to influence the team selections and clashed with club officials, according to UEFA. During three seasons at the club, Anping brought in 67 players, mostly foreigners on free transfers.
One of these player tells EIC: "Bruce Ji said to me: 'You come to play in my club and after I will sell you to China'. I said 'Ok, why not'. But when I arrived the coach didn't know anything about me, so he was not happy. The conditions were terrible. We were taking showers with cockroaches in the shower room. I didn't play one game. I only received two months of salary during my time there and after I left. Because of this club, I wanted to stop playing football."
As early as 2014, UEFA sent a confidential report to the Portuguese Federation announcing that Eric Mao was a "suspect individual" with links to the Asian betting mafia. This was borne out further by the transfers of players to Atlético Clube de Portugal, who have been connected with match-fixing.
These included Latvian goalkeeper Igors Labuts, who was later suspended in a match-fixing case in Ireland, and Sierra Leone midfielder Ibrahim Kargbo, who was the main suspect in a 2015 investigation by the Dutch FA for his alleged role manipulating two matches between his team, Willem II, and Ajax and Feyenoord in the 2009-10 season [Kargbo was later cleared].
The new line-up of players caused anger at the club, forcing the coach Jorge Simao to resign in June 2014, after only 12 matches.
In the 2014/2015 season, the betting patterns of matches at the club presented "strong fixing indicators," according to an ICSS report. Such "suspicious betting movements" occurred at a pre-season friendly played on 19 July 2014 between Clube Atlético Clube de Portugal and British club Charlton Athletic at La Cala Resort in Mijas, Andalucía, which ended in a 2-0 defeat for the Portuguese. [Charlton and Atlético would not comment on this match].
"This heavy handed approach leaves little doubt that Anping's acquisition of the team was conducted with a view to gain control of the team line up in order to place corrupt players and manipulate the results of football matches with a view to commit betting fraud," stated the ICSS report.
After two years of falling through the leagues, the club was insolvent and debt-ridden, and stopped competing in 2017. In June of that year, Mao disappeared overnight and was "never seen again" according to Atlético's current CEO, Ricardo Delgado.
The new management took over in 2017, abandoning the bankrupt company still owned by Mao, and re-started a club in the fifth division. "Atlético is now free to follow its path and hopes to move up the ranks of football until it reaches professional competitions again," Delgado tells EIC Network.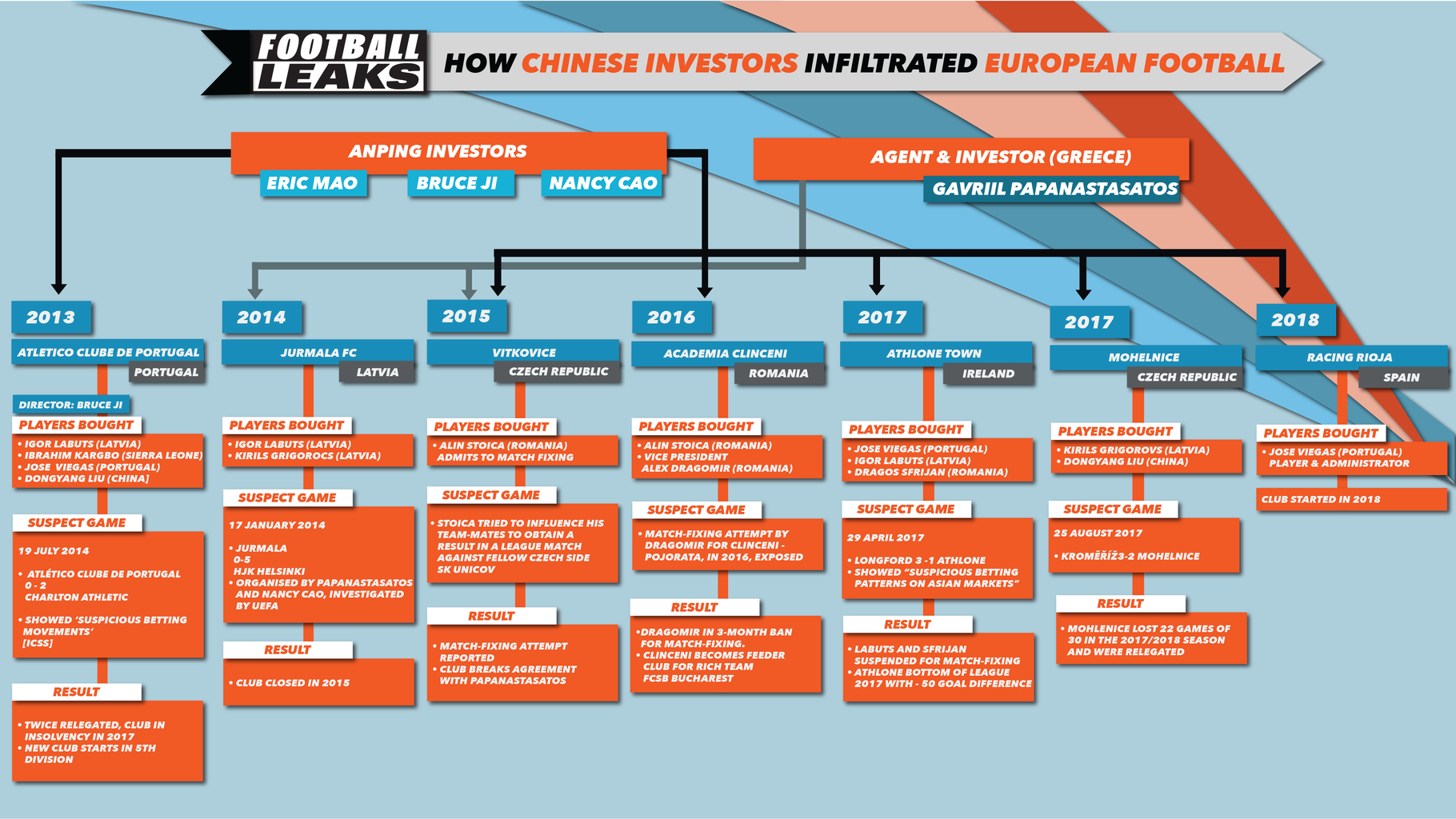 Raid Number Two: FC Jurmala (2014)
In 2014, Mao and his entourage were scouting the Baltic countries to look for clubs to snap up. Eventually, a Greek agent connected to Mao, called Gavriil Papanastasatos, entered the Latvian top tier 'Higher' league as an investor in FC Jurmala, based in the posh coastal town of the same name.
Born in 1970, Papanastasatos operated the agency Football Planet Association, and Jurmala signed the Latvian goalkeeper Igors Labuts, before his move to Atlético Club de Portugal and a Latvian centre-back named Kirils Grigorovs, alongside seven Argentinians.
One of the foreign players tells us what happened at the club:
"I signed up for a wage of €2,000 per month but I wasn't been paid for a single month. I ended up owing everything related to this experience. I lost €20,000. They didn't respect the contract. Papanastasatos owed us a lot of money. I filed a complaint with the Latvian FA before I left the club, but nothing happened. I heard about match-fixing, but I didn't play in those matches."
The club was soon investigated by UEFA for two suspect matches, including one against HJK Helsinki on 17 January 2014, which the Latvians lost 5-0.
This friendly was organised by Nancy Cao of Anping, and Papanastasatos's company Football Planet Sports Association. According to the ICSS, it "strongly suggests" the two firms "collaborate in the organization of fixes in football".
We approach the Greek about his relationship with Eric Mao and Anping. The agent states via text: "Sometimes I make transfers with many agents and sometimes with some Chinese company. I don't remember if was this names [sic]."
In June 2014, Jurmala's players refused to play a match against FS Metta/University of Latvia, because of unpaid wages and a lack of a team doctor. By the end of the season, the side won only two games, gathered seven points and had a goal difference of minus 79.
After relegation from the top tier of football in Latvia, the club disintegrated in 2015.
The Match Fix Attempt: MFK Vitkovice (2015)
When Greek agent Gavriil Papanastasatos became an investor at MFK Vitkovice, a club in the Czech third league, his links with Anping become more obvious. The agreement between the club and the investors was signed using the company Atlético Clube de Portugal - Futebol SA, the same name as a Cayman Islands-registered firm owned by Mao in Portugal.
When we ask about this company and its relationship with the Chinese investors, the Greek claims he has no knowledge of this arrangement. "I don't use any companies," he says. "I use my name. I don't have company."
In August 2015, Papanastasatos signed up a Romanian centre-back, Alin Stoica. Soon afterwards, the defender sent an SMS to his team-mate goalkeeper Pavel Rohel to influence his team-mates to obtain a specific result in a match against Czech side SK Unicov. Peter is "Peter Pappas", Papanastasatos's alias.
The SMS reads: "Hi bro. Peter texted me now and told me if tomorrow Vitkovice can win handicap, 2 goals difference will make business. If Wojnar [midfielder Petr Wojnar] and Musiol [forward Zbynek Musiol] can help us will be good. We need to win minimum 2 goals difference. If we can't no problem. No business."
Rohel informed the club officials about the attempt, but they did not make the case public, and instead the club tore up the investment agreement with Papanastasatos. In August 2018, EIC reporters contacted Petr Wojnar for comment. "Not interested to talk about it," he replied on Facebook.
The Greek agent disputes this succession of events. When we ask if he has been using the alias 'Peter Pappas', he states via text: "Who is he??... I cannot understand this combination."
In September 2018, EIC reporters talked to Alin Stoica, who disclosed another match fixing attempt at Vitkovice:
"I received a text message from the Greek agent [Papanastasatos] before an away game. I don't remember the opponent. He asked me if I want to make more money. I asked him how and he told me to do that and that. He said the team made extra money from time to time [from match fixing]. He told me we had to lose the game and that my team-mates are all aware of that. I said: 'Ok, no problem'. I wanted to see how things evolved. We scored two goals and I didn't understand what was happening. The opponents equalised, but then we made it 3-2. In the last minutes, the opponents went on the break, our goalkeeper was beaten but I saved the ball from the line. After that game, the coach didn't use me for three games."
We confront Papanastasatos about his alleged involvement in plotting a match-fix. The Greek responds via text:
"Xaxaxa, I don't have this power bro. I try to work for survive. :)"
After this, he refuses to answer any more questions, and blocks the reporter.
Up to €2,000 for each fixed game: Academica Clinceni (2016)
In February 2016, Anping injected almost €100,000 into the Romanian second league club Academica Clinceni, in a small town of 7,000 people, close to Bucharest. The Chinese had extraordinary plans to transform the club, which was co-financed by the local town hall.
To run the club, Anping named the Italian Omar Scafuro, a former investor in Portuguese team Beira Mar, and a friend of Eric Mao. The Chinaman appointed former Romanian left-back Alexandru Dragomir, now 33 years old, as vice-president. A new coach - ex-Romanian international Mugur Bolohan - was brought in. The club also signed Alin Stoica, the former Vitkovice player who tried to fix a game the previous year, but he instead left Romania to play in Jordan. Both Dragomir and Stoica arrived at Clinceni after they returned from Cyprus. That winter, the two had been working on the Mediterranean island, disguised as referees, who officiated friendlies manipulated for betting purposes.
The investment in Clinceni was a disaster.
After only a few weeks, Dragomir was reported to the Romanian FA by Clinceni goalkeeper Andrei Marinescu for attempting to fix a game. A source tells EIC Network that Dragomir informed Marinescu he would receive €1,000 or €2,000 for each fixed match.
"He asked me to stay on the goal-line and not attack the crosses. He told me to try to concede as many times as I could," Marinescu told the Romanian FA Disciplinary Committee.
According to the Clinceni mayor, Scafuro left Romania after one month, leaving his clothes in his changing room at the stadium. In late 2016, the Portuguese prosecutors brought a case against Scafuro for his failure to pay €70,000 in taxes.
Dragomir was banned for three months by the Romanian FA. But he continued to unofficially run Academica Clinceni until the end of the year. In an earlier discussion with EIC reporters he said: "The Chinese investment ended after Omar Scafuro disappeared in March 2016. We were left with a lot of debts and had to find a way of surviving." In 2018, Dragomir vanished.
In the summer of 2016, Anping organised a training camp for Academica Clinceni in Austria and Slovakia. Two of these games were highlighted by anti match-fixing organisation Federbet as suspicious. The team hotel was raided by Austrian police, who seized phones and laptops. But an Austrian judge declared the evidence gathered following the raid was not enough to incriminate the team members. However, players' conversations on Whatsapp, seen by EIC, communicate the number of goals to be scored in the match. But they don't use the word 'goals', replacing it instead with the code of 'wine barrels'.
Clinceni continues to survive, but due to its lack of funds, the club has become a satellite for major club FCSB Bucuresti, financed by ex-convict and former Member of the European Parliament, George Becali.
The Match Fix in Ireland: Athlone Town (2017)
In 2016, a Portuguese firm called Pré Season, owned by Lisbon-based businessman José Francisco, became a part-owner of Irish second league club Athlone Town. Francisco was the father of a former player at Atlético Clube de Portugal, had a passion for the Lisbon-based club, and soon became close to Eric Mao's associate Bruce Ji, according to the Portuguese press.
Although Eric Mao is understood to be behind the company, Francisco has claimed this was only a "cooperation".
In February 2017, Pré Season brought in new players connected to the clubs of Mao and Papanastasatos. These included the Latvian Igors Labuts and midfielders José Viegas and Dery Hernandez, all from Atlético Clube de Portugal, and one coach from Atlético CP's second team, Ricardo Cravo, along with a Romanian central midfielder, Dragoş Sfrijan. The Romanian arrived from the Bucharest-based second league Berceni, where his coach was Mugur Bolohan, none other than the coach signed by the Chinese at Clinceni a year before. Former Jurmala player Kirils Grigorovs signed up as well.
On 29 April, the team lost 3-1 to Longford Town in a result that was seen as suspicious due to betting patterns on the Asian markets.
By September, Labuts and Sfrijan were banned by the Irish FA for one year after they were found guilty of bringing the game into disrepute, manipulating matches and betting on games.
They were staunchly defended by the Players' Football Association of Ireland, which argued the allegations were "half-baked innuendo" and "The damage already done to these players is irreversible but they will fight to reclaim what is left of their good names."
But this did not happen. Last month, the Independent Disciplinary Appeal Committee met to hear the appeal from the two players. Labuts's appeal was rejected and Sfrijan did not even bother to turn up to defend himself.
Athlone Town ended the 2017 season at the bottom of the league with 17 points, and a minus 50 goal difference. The club declines to speak about its connection to Eric Mao.
All the foreign players the 'investors' brought to Ireland have since left the team.
Raid Number Three: FK Mohelnice (2017)
In July 2017, Eric Mao invested in the Czech third league club Mohelnice using a British shell company, Football Investment Limited, run by Premysl Buba, a Czech agent.
Bruce Ji sent the cash to finance the club from a Portuguese bank account, according to inside information. Mohelnice signed former Jurmala and Athlone player Kirils Grigorovs, as well as Chinese player Dongyang Liu from Atlético Clube de Portugal. The deal soon became suspect following disastrous games through the summer of 2017.
Mohelnice ended the 2017/2018 season at the bottom of the league, having lost 22 games of 30 played - and were relegated.
Alleged Escape to Spain: Racing Rioja (2018)
By this time, Mao's deal-making was becoming public, so he chose to adopt a pseudonym. In communications regarding investments in Czech and Slovakian clubs, Mao used the fake name 'Arry' (short for Harry Zhang), according to one source. On 12 July, Eric 'Arry' Mao was based in Austria, where various teams from Europe were playing friendlies.
In August 2018, Eric Mao created a new club, Racing Rioja, in the Spain's lower league of the Rioja region, Regional Preferente, according to a source. The new side has an ambition to bring in Chinese players and secure a promotional spot to Spain's fourth tier. One of the club's players is Portuguese left midfielder Jose Viegas, who is also the club president. Viegas played for both Athlone Town and Atlético Clube de Portugal and, in the winter of 2018, Viegas travelled to Cyprus to pose as an assistant referee during eight friendly games. In at least six of these games, his counterpart on the line was his former Athlone Town team-mate Kirils Grigorov. Neither are registered officials.
At the same time, Mao was on the verge of investing into MFK Karvina, a Czech first league club. The Chinese's intentions were to control the U-21 team. In official correspondence seen by EIC, Mao wanted to bring in Chinese players to promote "Chinese football development" and "growing Chinese community interest" in the Czech club, which would be generated by these transfers.
But we can reveal how this is a sham.
This is best demonstrated by one of Mao's WhatsApp messages from June 2018, obtained by EIC Network, in reference to MFK Karvina.
Here the FIFA agent writes in broken English:
"Actully i don't care Chinese development. You just need to give a story why you want to take over karvina u21. I can pay all salaries and we take control about that."
EIC Network has tried to contact Mao and his colleagues for over a year for comment, but has been refused any chance to allow the Chinese to respond.



---
Infographic by Nisha Vasudevan