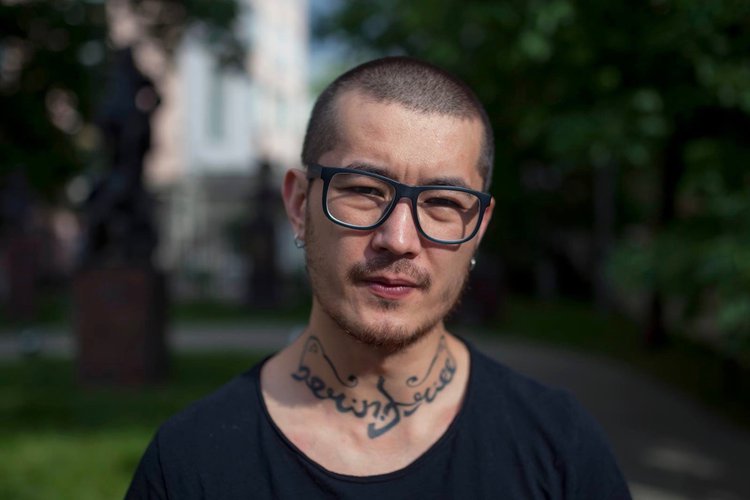 UPDATE: Following a decision of an appeal court in Moscow on Tuesday 8 August, the deportation of Ali has been suspended until a final decision by the European Court of Human Rights. Ali will be kept inside a deportation center in Russia until then

A Russian journalist from newspaper Novaya Gazeta is on the verge of deportation to Uzbekistan, where journalists and their families risk imprisonment and disappearance.
On 1 August, a Russian court ordered the compulsory deportation of 30 year-old Ali Feruz, who was previously tortured by the powerful Uzbek security services, the SNB.
His colleagues believe the deportation could put his life in danger because he is a journalist, a profession brutally suppressed in the Central Asian country.
Feruz is openly gay, and in Uzbekistan sex between men is illegal and can be penalised with up to three years in prison.
He is registered as an Uzbek citizen, but has made a life for himself in Moscow for the last six years.
His deportation is part of a 'fast-track' deportation measure, although the legal means allowing his appeal have not yet been exhausted.
Vladimir Putin himself has been solicited by Novaya Gazeta editor in chief Dmitry Muratov to prevent the deportation of Feruz.

Media Freedom "non-existent"
An independent republic since breaking free from the USSR in 1991, Uzbekistan is southeast Asia's most populous state - of 32 million people.
From 1991 until 2016, it was run by President Islam Karimov, and was known an authoritarian state where torture and arbitrary detention were widespread, and the media was under constant attack.
If journalists wrote critical investigations into the leaders and their entourage, they risked torture and imprisonment. If these journalists were outside the country, their families in Uzbekistan also faced reprisals.
Karimov even imprisoned his own nephew Jamshid, an investigative journalist, in a psychiatric facility, where he remained from 2006 until this year.
Since Karimov's death, the new President Shavkat Mirziyoyev has made signals towards a thaw in media freedom and human rights.
But Mirziyoyev comes from the same elite as his predecessor and the power structures remain in place in a secretive country where the mighty security service, the SNB, is a powerful player within the state.

Journalist's wife "threatened with rape"
Ali Feruz is the pen name of Khudoberdi Nurmatov, who has written on hate crimes, LGBT and disability rights, and the rights of refugees from Central Asia.
Born in Kokand in the Uzbek Soviet Socialist Republic in 1987, Feruz's mother is Russian and he graduated in Russia, only later acquiring Uzbek citizenship in 2004. In 2008, he married a Kyrgyz citizen, Dilafruz Shamshiddinova, and moved to Uzbekistan, where he fathered two children.
That year he was kidnapped by the security services, the SNB, who interrogated Feruz and forced him to hand over information about the political views of his friends who practised Islam.
The SNB also asked Feruz to work for them. After refusing to cooperate, the journalist was beaten by members of the SNB, who threatened to rape his wife and imprison him on false information.
He then fled to Kyrgyzstan, and then to Kazakhstan, before moving to Russia in 2011.
In 2013, he came out as gay, and broke up with his wife.
He has repeatedly been refused asylum by the Russian authorities, and in March 2017, the Russian police detained him for 12 hours on no charges. The police officers grilled him on the reasons for his application for shelter in Russia, and he was threatened with deportation to Uzbekistan.
There are cases where Uzbek asylum seekers - and even those with refugee status - disappear in Moscow and are later found in Uzbek prisons.
The staff at Novaya Gazeta fear that even if Feruz gains provisional asylum status in Russia, he could still be at risk of abduction and kidnap to Uzbekistan.