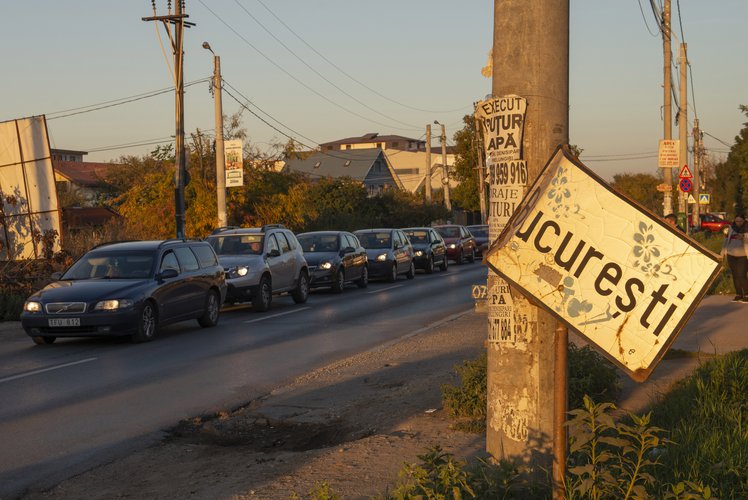 Eight-year-old Miruna has lived with asthma for more than half her life. Born and brought up in Bucharest, Romania, she weighs just 20 kilogrammes and is two-thirds the size of an average child of her age. Wherever she goes, her mother Anca makes sure that she carries an inhaler and an emergency spray. Without medication, Miruna's lungs cannot handle walking the streets of Bucharest; whenever she does leave, the dust and pollution spark a dry cough that stays with her for days.
"She can't deal with five days of school in a row," says Anca, who quit her full-time job to look after her daughter, "She can take around four days and then she becomes tired both because of the walk to school and the fact that it's hot in the classroom."
Three years ago, the family moved to a cleaner and fresher part of the city, near open fields. But since then, developers have turned the spaces into building sites, and now dust hangs heavy in the air. The area has few car parks, so the streets and pavements, already lined with resident's rubbish bags, are crammed with vehicles.
"There were still some vacant lots left, with vegetation and trees, but it's all getting cut down and built over," says Anca. "It's hard not having parks or green areas, and a lot of traffic, it's horrible when we walk to school in the morning, we're inhaling noxious fumes."
A cloud over Bucharest
Miruna's symptoms are severe, but she is far from the only person affected by pollution in Romania. Last month, the European Environment Agency (EEA) estimated that in 2016 more than 28,000 premature deaths across the country could be attributed to air pollution. Ștefan Voinea, a member of a research organisation the Romanian Health Observatory, calls air pollution a "silent killer".
In August this year, Bucharest's City Hall acknowledged in a communique that the city had seen record levels of pollution and was now the sixth most polluted city in Europe. The statement also announced the launch of a new initiative by Bucharest's Mayor Gabriela Firea to reduce traffic and cut emissions across the city. But reporting by The Black Sea over this summer has shown that for the last few years, the government response at the national and local level has been wholly ineffective at keeping pollution under control. The latest efforts by Mayor Firea may be too little too late.
The situation is no better across Romania as a whole. In fact, Bucharest is only the fourth most-polluted city in Romania. And the situation has grown so bad that it has affected Romania's standing in the European Union. In 2018, the European Commission launched infringement procedures against Romania. In its statement, the Commission declared that, since 2007, harmful emissions in Bucharest had "constantly and systematically" exceeded daily limits. The report rebuked the Romanian government for its failure to come up with a plan or measures to reduce emissions as quickly as possible.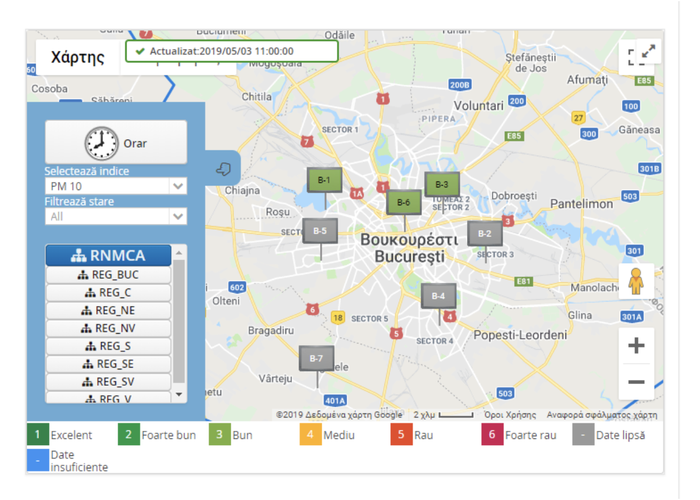 The Ministry of the Environment's "Aer Calitatea' [Air Quality] website above shows that areas in grey cannot reveal pollution in the air because of an "absence of data" [date lipsa].
This is not a new problem. City Hall knew about the situation as long ago as December 2017, when it released a report from its Environmental Directorate saying that the number of stations was "insufficient to assess the exposure of the population [to air] and for the air quality management in Bucharest".
Reporters visited the stations in the summer and found one covered in graffiti and another plastered with illegal advertisements for a driving school. When questioned about the stations and their status, Andreea Apreotesesi, a spokesperson for the National Agency for Environmental Protection (ANPM), said, "Certain equipment in monitoring stations may have operating discontinuities caused by malfunctions or lack of supplies." Since then, the graffiti on the station of Piata Universitatii has been covered over with white paint.
Meanwhile, the Ministry for the Environment told The Black Sea that between 2015 and 2017 it replaced equipment at the eight stations, at a cost of 3,270,000 lei (687,000 Euro), and spent 595,000 lei (125,000 Euro) on repairs and maintenance between 2015 and 2019.
The limited data that is available does not paint Romania in a good light. The EU requires its member states to maintain, and release publicly, statistics on air pollution, and keep emissions within an agreed limit. Even with their restricted capability, however, Bucharest's monitoring stations show that PM10 emissions breached the EU's limits for each of the last four years. In 2018, two stations in Bucharest revealed breaches for 70 and 42 days of the year, respectively, according to data from the ANPM (National Agency for Environmental Protection), making last year the worst on record.
Private companies have filled the void left by the government. In late 2018, consumer electronics giant Phillips and Polish technology start-up Airly set up their own network of air quality sensors. In December, one sensor in the network recorded more than seven times the legal limit of PM10 while another recorded more than nine times the limit of PM2.5. Both types of particulate matter are harmful and are linked to a range of health problems.
To combat air pollution, Bucharest City Hall approved the Operational Information System for Air Quality Management, in 2018, which aims to create its own air quality monitoring system with 25 fixed stations and nine mobile ones. Under this programme, stations should help inform people about exposure to noxious gases and risks to their health.
"This is very important for young people, children and old people, because they [may need] to wait until they can leave their homes," says Dr Florin Mihaltan, chief of the pneumology section in Marius Nasta Institute.
According to the European Commission's 2019 report on Romania, the country "promises to correct the reporting as soon as possible and to have the monitoring system up to standard for the start of 2019."
But this has not happened yet. Halfway into the year, the City Hall now states that financing for the feasibility study was approved in its recent budget, decided in May.
Meanwhile, the air quality initiative from Philips and Airly has been online since November, 2018, with warnings such as "Attention! Avoid breathing outdoors!" and "a longer stay outside can affect your health".
A dumping ground for old motors
The cause of two thirds of pollution in Bucharest is road traffic, according to City Hall, with vehicles contributing nitrogen oxides (NOx) and benzene fumes into the air. Around 8,430 premature deaths occur in Romania due to NOx pollution, including respiratory, liver, and blood diseases, according to the Romanian Health Observatory. Benzene fumes are carcinogenic, says the International Agency for Research on Cancer.
The other major source of pollution is industry and services, which Bucharest City Hall says is responsible for more than 25 percent of emissions in the city. Much of this pollution comes from the six industrial heating plants in and around Bucharest. Romania is reliant on coal power, and environmentalists have complained that government oversight has been lacking as a result. In July 2018, the European Commission opened infringement proceedings against Romania for its excessive industrial emissions. Following complaints from citizens and NGOs, the commission found that several installations, including four large combustion plants do not have permits setting operating conditions in accordance with EU legislation. In 2018, the commission decided to send an additional letter of formal notice to Romania.
Particulate matter is linked most heavily with diesel cars and on the face of it, Romania's drivers appear to have the balance right. In Romania, diesel cars make up 38.7% of the passenger cars in use, well below the EU average of 42%. But Romania also has the second oldest car fleet in the EU. The average motor vehicle age is 16.2 years, and it ranks among the lowest EU country for the registration of new cars, after Lithuania. The European Union average is 10.5 years .
The Europe-wide scandal of Dieselgate in 2015, where cars were found to emit larger quantities of NOx than officially tested, regulations across Western Europe tightened. 2Celsius, an environmental NGO based in Romania, warned of an influx of older cars into Eastern European countries, which have looser regulations on vehicle emissions.
The number of diesel cars imported in Romania jumped from 137,000 to 370,000, between 2015 and 2017, according to 2Celsius.
In 2011, the EU introduced Euro 5 standards which require all new cars to introduce diesel particulate filters, which reduce PM emissions. But according to 2Celsius, of the 370,000 diesel cars imported in 2017, more than 80% were made before 2011, and therefore do not have these filters.
Mihai Mihalcea, a 49-year-old choreographer who lives on Bucharest's congested Protopopescu square, says he cannot open his windows during the day because of the fumes and dust that enter his house. The location of his flat in downtown Bucharest has allowed him to see first-hand how the situation worsened over time, with traffic jams beginning as early as seven o'clock in the morning.
"People feel somehow protected in the car," he says. "You have the totally stupid impression that you are protected, and that you are safe, but you are not safe at all - if you open the windows of your car, you're going to breathe exactly what you produce and what the others are producing."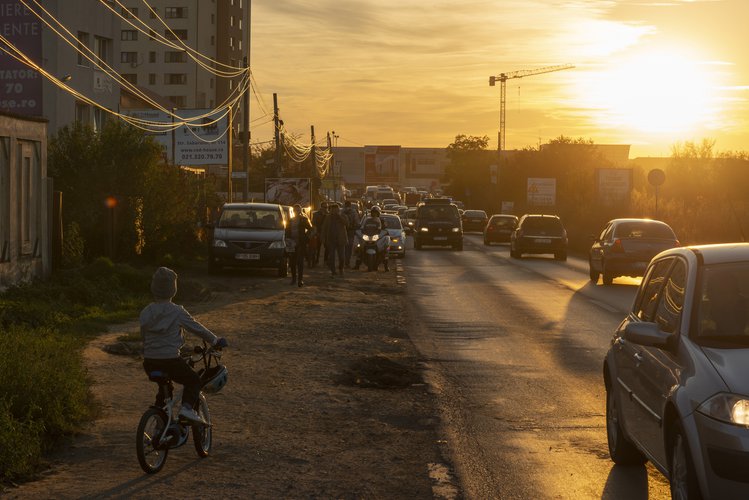 The cause of two thirds of pollution in Bucharest is road traffic. Photo: Petrut Calinescu/TBS
Insufficient measures, short-lived schemes
The Romanian government has attempted to deal with the problem of traffic pollution in a number of ways, but without much success. For more than a decade, the country has carried out the 'Rabla' program, in which drivers give up their old, polluting automobiles, and receive vouchers towards newer cars. Run by the Environment Fund Administration (AFM), this aims to contribute to increasing the number of cleaner cars on the roads. Bucharest plans to grant 5,000 eco-vouchers, with a value of 9,000 lei [1,900 Euro], in exchange for drivers scrapping their used cars.
But this is little more than a drop in the ocean; the AFM predicted in 2018 that Rabla will replace only 3.38 percent of the total car fleet. The reason for such a modest number, according to Allen Coliban, Senator from the city of Brașov and member of the Save Romania Union (USR) party, is the removal of the so-called Green Tax on cars. From 2013 to 2017, Romanians had to pay a stamp duty, known as the "Green Tax", on second-hand cars. Despite its name, this duty did not target cars based on the level of their emissions. Rather it was aimed at first-time car registrations in Romania, making imported cars more expensive while domestic second-hand cars generated no penalties.
In 2016, the Green Tax ran afoul of the EU's Court of Justice, which stated that it violated regulations on the EU's free movement of good and was incompatible with EU law.
If Romania wanted to protect the environment, says Viorel Papu, a lawyer specialised in auto tax, the levy should have been applied to all registered cars. In 2017, the Green Tax was repealed and has yet to be replaced. The Romanian Ministry of Environment told The Black Sea that it has now established a working group to draw up a new law. In November, last year, Prime Minister Ludovic Orban said in a statement that the government would not rush forward with a new pollution tax.
Without a replacement, says Coliban, it is now cheaper for a driver to buy a used car from the west than to purchase a new vehicle with help from the Rabla scheme.
"I think [the Government] killed the good impact of Rabla," he says. "In only one year, we had hundreds of thousands of vehicles coming to Romania from Germany and from other states, and most of them were really old vehicles."
Green belt dreams up in smoke
Bucharest's current mayor is the Social Democrat (PSD) Gabriela Firea. She ran her election campaign in 2016 on a promise that Bucharest would become a 'Green City' with sustainable and ecological development, and that action would be taken to reduce air pollution.
The bold promise from Firea's campaign involved plans for a new green belt around Bucharest to help reduce pollution and absorb carbon dioxide. But three years after her victory, the green belt has yet to materialise.
"This is a very important project for Bucharest, given that the natural environment is dusty in this southern area of the country and a green forest around the city would very much contribute to air quality in the city," says Oana Neneciu, executive director in sustainable policies NGO Ecopolis.
The SPD also aimed to reforest land affected by wind erosion. An analysis by The Black Sea shows, however, that by the end of last year only 0.36 hectares, out of the 10.41 hectares foreseen in the proposals, saw any reforestation.
Bucharest's budget outlines how much City Hall prioritises the environment. Spending on the environment has actually gone down over time, from 136,365 lei (25,838 Euros) in 2014 to 106,537 lei (22,295 Euros) in 2019. By comparison, the city budget for Culture and Religion was 720,770 lei (150,840 Euros) in 2019.
The Black Sea confronted City Hall with its findings on multiple occasions, but received no comment.
City Hall launched a public consultation on the plan in February 2018 to produce a study on air quality and its implications for human health. But NGOs felt pushed away. "When I arrived, I was not allowed to participate in the debate," says Greenpeace's Alin Tanase. "City Hall just put me in a room with a TV and I watched on the TV what they talked about. So, yeah, that's the level of consultation."
One of the victims of air pollution also approached City Hall with questions on the initiative to tackle the air-quality issue. Marina Tudose, 44, is a psychologist who suffers from respiratory problems and soon she will now have to undergo an operation on her nose to assist her breathing.Doctors have informed her that this condition is caused by the pollution in Bucharest, and She was unimpressed by the response from City Hall.
"They mentioned some laws or they mentioned some initiatives taken and they gave some general answers like 'Thank you very much for the interest'," she says. "It was polite but they didn't tell me anything."
Diesel buses and oxygen vignettes
Bucharest has promised to clean up its public transport network with the purchase of 100 new electric trolleybuses, 100 electric trams and 100 electric buses. As part of the upgrades to its fleet it has bought 400 new diesel buses from Turkey's Otokar, which comply with the EU's Euro 6 standards on pollution, but even this is a misstep according to Neneciu.
"Buying 400 Turkish diesel buses, even Euro 6, in 2019 is not a sign of reform, when every large city in Europe is moving to electric buses," she says. "Diesel is not the smart or ecological choice. It's the easy choice."
Since August, Mayor Firea has also been working on an initiative to cut the number of old, polluting cars on Bucharest's roads. The project involves banning the old cars rated Euro 2 standard or lower from a special zone in downtown Bucharest. They can still drive around the rest of Bucharest but only after owners have paid a tax known as an "Oxygen vignette". Euro 3 and 4 cars will also be subject to the Oxygen vignette but will not be restricted in their movements across the city.
On Thursday, 23rd October, Bucharest's General Council voted to introduce Mayor Firea's proposals, as well as to completely ban cars of Euro 2 or below standard by 2022. In a statement on Facebook the Mayor said, "We don't want to bring Bucharest to the level of third world countries and turn it into the graveyard of the most polluting junk cars from Europe."
But environmental groups expressed scepticism about the new plans. A spokesperson for Greenpeace told The Black Sea that while the general principle of low emission zones is a good one, the Mayor's implementation is too modest to be effective.
"The specific proposal for Bucharest is not very ambitious and in some parts it must be improved in the near future. For example, there is no differentiation between diesel and gasoline cars," said the spokesperson. "It is already widely known that diesel cars pollute more than gasoline cars."
Romanian NGO Ecopolis also remained sceptical. "The imposed taxation policy right now is not based on accurate measurements or on any kind of study, so we cannot tell if it will turn out to be a good policy, or that it will lower the air pollution levels from the city."
Waiting to escape
While the government struggles to reduce the pollution, eight-year-old Miruna and her mother, Anca, still endure the city's noxious atmosphere. They dream of moving to the clean air of the Romanian mountains but Anca must first pay off the mortgage on the apartment before that can happen. In the meantime, she tries to make sure that her daughter has the right medications to keep her symptoms at bay.
"I've got used to the asthma, because I've been fighting this for years," Anca says. "It was hard in the beginning, because no one was helping. Neither the school or the child support services, nor the hospitals, so you're on your own and it's tiring. The smaller the child is, the tougher it is, but you get used to it."
---
Additional reporting by Liana Fermeseanu