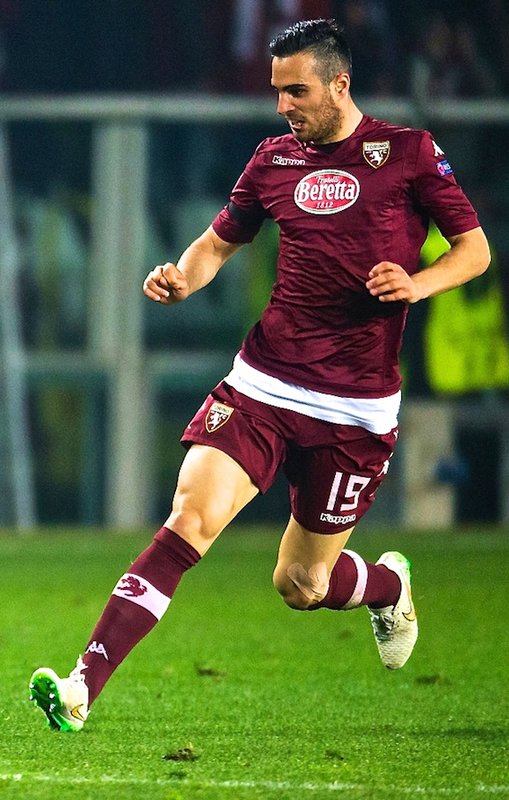 Maksimovic in Turin colours: 2015

Following in the footsteps of former Manchester United captain Nemanja Vidic, 25 year-old Serbian centre-back Nikola Maksimovic began football at upstart club Sloboda Uzice before moving to Serbian giant Red Star.
After only six months in Belgrade, he was sold in September 2012 for just one million Euro. The buyer is once again Apollon.
He was allowed to stay playing at Red Star, under the understanding he would transfer to Apollon in the January 2013 transfer window in a three-year deal.
But this only happened on paper.
He remained at Red Star.
Asked whether he had ever been to Cyprus, Maksimovic replied: "I do not talk anymore on this issue and there is no need to go back and discuss this issue anymore."
Without playing a single minute in Cyprus, Maksimovic went on loan to Torino. On 22 July 2013, the Seria A club agreed to pay a 350,000 Euro fee and retained an exclusive option right to take the defender on a permanent transfer. The next day, Maksimovic signed a five year contract despite being on loan for only one season.
Torino had until May 2014 to exercise their option in exchange for a 3.5 million Euro amount. The eventual trimestrial instalments of 300,000 Euro each (only the first payment differed - 200,000 Euro) were structured over the next three years.
The last payment was scheduled for June 2017.
This is the key to an incredible clause introduced next in the contract by the Israeli lawyer Ehud Shochatovitch. He's the one that looks after the interests of Israeli superagent Pini Zahavi. In Football Leaks, Shochatovitch signs documents in the name of offshore companies from British Virgin Islands to Luxembourg, sends emails to Portuguese club officials in the name of this employer and talks with Chelsea director Marina Granovskaia about transfer judicial strategies.
His email address is mentioned at the end of the loan agreement between Apollon and Torino as a correspondence address. This is further proof that Pini Zahavi holds great influence over the Cypriot club. A few lines under Ehud's contact detail, Torino chairman Urbano R. Cairo signed and agreed to the following sentences:
"In any case in which Torino FC S.P.A has exercised the option and sells the player's rights and transfers the player to another club on a permanent basis ("Future Transfer") before it has completed the payment of the entire Purchase Consideration stipulated above. For the remaining amount to be paid by Torino FC S.P.A. of 3.500.000 Euro, Torino FC S.P.A. will pay to Apollon a percentage of the amount paid to Torino FC S.P.A. for the transfer which will equal to the percentage still due to Apollon of 3.500.000 Euro in that moment".
Events that followed placed Torino in the situation mentioned above.
On 20 May 2014, ten days left before the deadline, Urbano Cairo informed Apollon that his club will exercise their option.
They agreed to transfer Maksimovic under the terms already agreed. The Serbian already became an integral part of a Torino team that established itself in Seria A following their promotion in 2012. But for a metatarsal fracture that kept him on the sideline for a few months, Maksimovic regularly played in the first team and drew the attention of bigger clubs.
In the last day of the 2016 summer transfer window, he went to Napoli. The terms of the deal are bizarre.
Maksimovic was loaned for one season, but the fee is unusually high. Napoli agreed to pay five million Euro now and 20 million Euro next summer when they will permanently transfer the defender. The definitive transfer was set and done from August 2016 but the clubs preferred to loan the player for the first season.
Had Maksimovic been transferred on 31 August 2016 to Napoli for 25 million Euro, Torino would have been forced to pay Apollon a huge amount of money. On that day, they were still 1.2 million Euro away from the 3.5 million Euro payment completion to the club in Cyprus. That is 34 per cent of the agreed transfer fee.
Under the terms agreed by Urbano Cairo, Torino would have been bound to pay Apollon 34 per cent of the 25 million Euro fee from Napoli. Instead of 1.2 million, the club controlled by Zahavi would have received 8.5 million Euro, an undesirable 7.3 million loss for the Italian club.
Now, let's do a simple calculation: 2.3 million plus 8.5 million equal 10.8 million. This would have been the Apollon total income following Maksimovic sale to Torino. As a domino effect, Red Star would have been entitled to ten per cent of Apollon net profit from a future transfer. Mind that they sold Maksimovic for one million Euro. The base for making calculations is the 9.8 million Euro difference. If you deduct the player and agents expenses, Red Star would still be able to claim a hundreds of thousands Euro compensation.
But after Torino and Napoli agreed to delay the permanent transfer for one season, all these calculations seem to be in vain.


Main story on the Paper Player of Cyprus here
#FootballLeaks