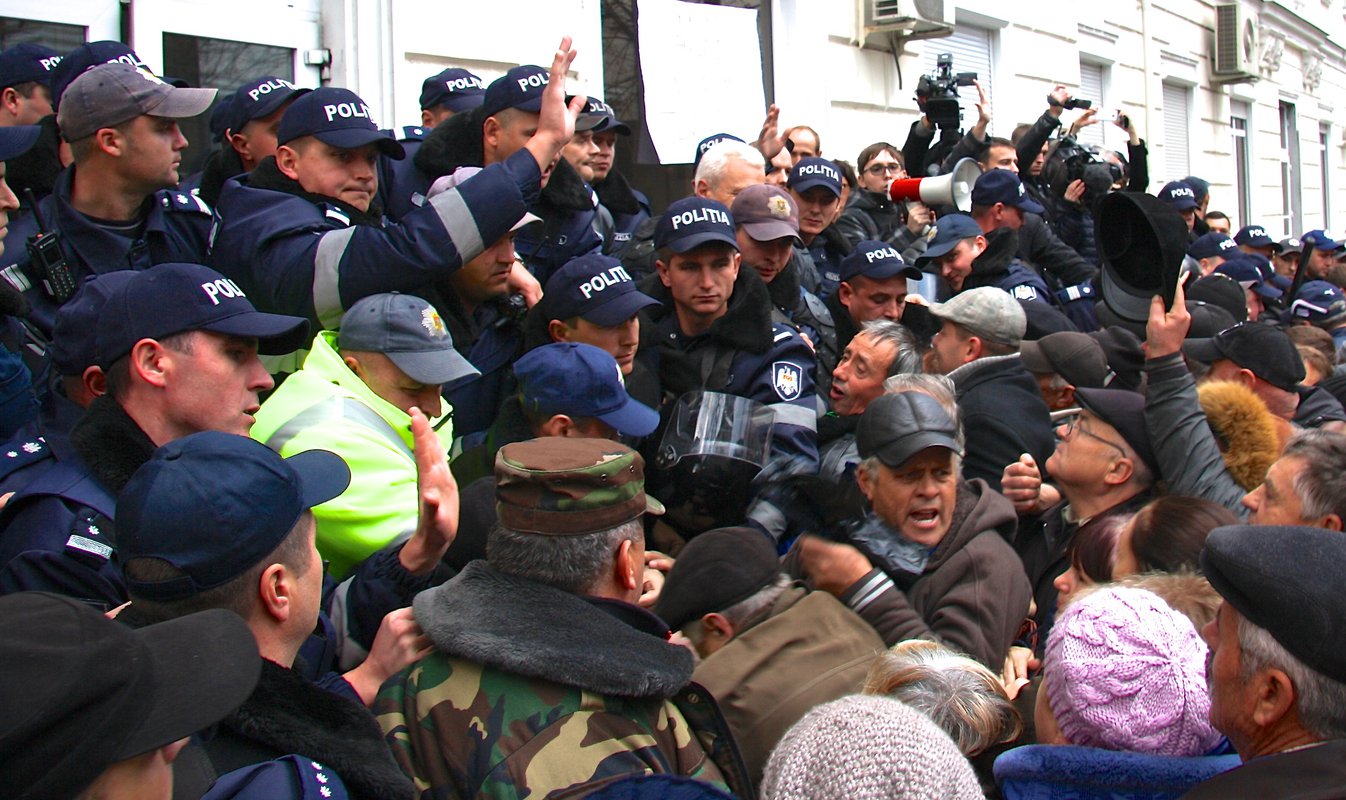 Fight for power: Moldovan pensioners angry at electricty price rises wrestle with police outside the National Energy Regulator building

Chisinau is a city of permanent protest. Against corruption. Against poverty. Against oligarchs. Against electricity bill rises. Against the idea of Moldova as an independent state. Every day a new cause attracts thousands of disaffected citizens - and hundreds still camp out in the winter cold in front of the Government and Parliament buildings.
But while Parliament fails to construct a stable Government, the opposition is also subject to infighting and division.
Here is a short guide to the leaders and the upstarts.

Powers Facing a Challenge

Liberal Democratic Party (PLDM)
The centre-right Liberal Democratic Party is the most pro-European mainstream party and has been integral in promoting reforms which bring Moldovan legislation and ambitions closer to those of the western political bloc.
However the party split this year, with former Prime Minister Iurie Leanca leaving to form a new pro-European party. The party's former President and ex-PM Vlad Filat was arrested in October under accusations of involvement in a billion-dollar bank fraud in 2014, which saw three Moldovan banks collapse and tax-payers pick up the tab.
Many critics view 46 year-old Filat's arrest as a form of 'selective justice' as many other politicians from other parties have also been involved in controversial public and private schemes of sequestering funds.
The party has also lost the support of businessman Vlad Plahotniuc, widely viewed as the financier for many of the political groups now trying to form a Government.
The PLDM is flailing in the polls on 7.3 per cent.

Democratic Party (PDM)
The centre-left PDM is seen as a bridge party between the pro-European and pro-Russian wings of Moldovan society and has been in talks with the Communist Party to form a Government, however they cannot yet form a majority in the Parliament to build such a bloc.
Run by Marian Lupu, a former President of the Moldovan Parliament for the Communist Party and business leader Vladimir Plahotniuc, the party also boasts the speaker of the Moldovan Parliament, Andrian Candu, who is the god-son of Plahotniuc.
Now the party is falling in popularity, and barely makes it over the threshold to enter Parliament if there is an election - as it polls only 6.9 per cent.

Liberal Party (PL)
Run by former President Mihai Ghimpu and his nephew, Major of Chisinau Dorin Chirtoaca, the centre-right party is a pro-reform, pro-European bloc. Ghimpu has claimed that personally he is in favour of a union between Romania and Moldova, but his party is not.
The party polls 9.3 per cent of the vote.

Popular European Party of Moldova (PPEM)
Run by former prime minister Iurie Leanca, after he left the PLDM, the party is positioning itself as a 'Merkel' style party which imitates the European Parliament's Popular Party name, font and logo.
However the party is seen as close to Plahotniuc, and Leanca, who speaks countless languages and plays well on the diplomatic stage, is seen as lacking popular appeal among the masses. [His party did not return requests to be interviewed for this article].
However it is the most popular pro-European party at present with 9.9 per cent of the vote in polling. One reason for its popularity is that it evades the poor reputation now accorded to the pro-European bloc of the PL, PDM and PLDM by cleverly not using the words 'Democratic' or 'Liberal' in its name, to avoid any confusion.

Communist Party (PCRM)
The Communists ruled Moldova with a strong majority between 2001 and 2009, under the iron hand of then president Vladimir Voronin.
However protests on the streets accusing the party of falsifying election results in 2009 brought an end to its dominance. Now the party's votes are in decline, eaten away by support for the Socialist Party and Our Party of Renato Usatii. It polls at only 9.9 per cent of the vote, but retains a fifth of the seats in Parliament (21).
Like all the established parties (PL, PDM, PDLM), it has the most to lose from early elections - and will do everything to ensure these do not happen.

Disaffected Movements on the Rise

Pro-Europe
Unashamedly pro-European, founded by former politicians, journalists and members of civil society, Dignity and Truth (DA) is a civic platform aimed at cleansing the political class of corrupt figures.
"What is important is to destroy the pyramid of the oligarchs," says Valentin Dolganiuc, a former vice-prime minister of Moldova and founder member of the platform.
Their demands are: for the people to choose the President through a vote (currently he is chosen by Parliament), to lift the immunity on MPs and to reduce the number of MPs. They also want international institutions of law to investigate high level Moldovan corruption.
Excellent at mobilising citizens, its demonstration in Chisinau on 6 September attracted 100,000 protestors, although subsequent protests have not been so numerous. Since then it has occupied the square in front of the Government building with tents.
Now the movement's members have formed "One Party" - and polling gives them around seven per cent of the vote.
The movement is supported by television station Jurnal TV, owned by businessman and former Transport minister Victor Topa. The ex-politician is currently in exile in Frankfurt, Germany, where he is evading what he has called politically motivated allegations brought against him by his business and political rival, Vlad Plahotniuc.
Topa has rejected accusations that he finances Dignity and Truth.
Another possibility is a pro-European party forming around former Minister of Education Maia Sandu, who is the second most popular politician in the country, after 'Our Party's' Renato Usatii, and is unaffiliated to any existing party. She is currently obtaining signatures from citizens to give her the right to register a party.

Pro-Moscow
The Socialist Party is run by ex-Communist former Minister of Economy Igor Dodon and former Prime Minister Zinaida Greaceanii. Pro-Moscow, the party stormed into the Parliament in 2014 with a quarter of the seats (25). It still polls high and is favoured by 20 per cent of the population.
Despite being the largest elected party, the Socialists have set up tents in a camp outside the parliament itself, in a move to create the semblance that they remain a 'party of protest'.
In favour of a customs' union with ex-USSR states, the party is thought to be financed directly by the Kremlin [Dodon did not return a request to be interviewed for this article].
However if the party improves on its percentage in the next elections, many observers believe it will follow the pattern of the pro-Russian Communist party in the early 2000s, of being open to both the prospect of further European integration and retaining close ties with Russia.
Many see Dodon as a "pragmatist" who is riding a current wave of pro-Russian sentiment, but which could swerve in a different direction depending on events. Moldova, much like Ukraine, is a divided society. One in every six Moldovans, for example, holds a passport for Romania - a country which is fiercely anti-Russian and very pro-EU.
If Dodon embraces Putin too quickly at the expense of Brussels, it is possible there could be another coup, similar to the one in Chisinau in 2009 or Kyiv in 2014.
Dodon has a track record of this - when Minister of Finance at the beginning of the last decade he oversaw many reforms which brought Moldova closer to the EU.


Pro-Usatii
Currently the most popular political movement in Moldova, Usatii's Our Party wants to launch a referendum among Moldovans regarding whether they want to join the EU, the Russian Custom's Union, or remain independent.
Party leader Renato Usatii made his money as the owner of a factory in the Russian city of Nizhny Novgorod selling railway parts to state-owned Russian Railways. However the party rejects accusations it is funded by the Kremlin. The party is against unification with Romania and Usatii once said he wants to build a "Great Wall of China" between Moldova and Romania.
'Our Party' also wants to renegotiate the trade aspects of the European Association Agreement, in order to favor opening greater trade links with former Soviet states like Russia and Belorussia.
The party is riding high in the polls (over 22 per cent) and wants early elections as soon as possible so it can secure a place in parliament - where it has no seats.

Pro-Change
Civic activist Oleg Brega is an anti-system candidate who stands for every election when he can because, as he tells me, there is "no one to vote for".
Moldovan citizens seek out Brega to help expose corrupt authorities online. He has a virtual zero-budget, making only 75 Euro a month from advertising on his popular YouTube site.
How does he survive? "I have no car or mortgage, I ride my bicycle everywhere," he says. But he always prepared for a protest. "I carry a whistle with me all the time," he adds.
Earlier this year the 42 year-old civic activist stood for mayor of Chisinau with no donations and won 1.4 per cent of the vote.
Brega is the most optimistic person I meet about Moldova's fragmented political system - which now has 50 parties registered to stand and no party polling over 22 per cent.
"This is wonderful, I consider it democracy, pluralism, competition," he says. "Now we have opposition on the left, opposition on the right. They denounce each other. It's fine."

Pro-Romania
Disparate groups protest regularly for the prospect of a union between Romania and Moldova, including the breakaway region of Transnistria.
Romania and large parts of today's Moldova were one country between 1918 and 1940 - and the majority of Moldovans speak Romanian as a first language.
Although the concept of reunifying Romania and Moldova enjoys huge support in Romania, only a minority advocate for the political merger in Moldova.
But the protestors regularly and vocally demonstrate in both Chisinau and Romanian cities.
"People see us as romantic youngsters who dream about something we read in the history books," says Constantin Codreanu, a civic activist leader of pro-Unionist Actiunea 2012, "but we have clear aims."
Before unification, the unionists are calling for closer economic links between the two countries, such as allowing Moldova to be supplied by gas and electricity from Romania. Another idea is a joint monetary union, where the Moldovan Lei is replaced by the Romanian Lei, bringing the currency under control of the Romanian central bank (BNR).
Moldovans represent a significant voting bloc in Romania - around 700,000 Moldovans have Romanian passports and Romanians can travel to Moldova with only an ID card.
A new party formed earlier this year called Dreapta also advocates a union of the two countries. Headed by former Liberal Party MP Ana Gutu, the party was launched in the presence of Monica Macovei, the right-wing Romanian MEP and former Justice Minister. Its logo includes the 'blue arrow' of the Romanian National Liberal Party.