Markovic: a huge source of cash for Israeli superagent Pini Zahavi's network (GSP/Getty)

22 year-old Serbian winger Lazar Markovic has entered the giant financial mechanism understood to be overseen by Israeli superagent Pini Zahavi through offshore companies from the British Virgin Islands to Malta.
In July 2014, he joined English Premier League club Liverpool from Portugal's Benfica for 25 million Euro. Currently the player is on loan from the English club to Sporting Lisbon.
When Liverpool bought Markovic, they acquired 100 per cent of the players' federative and economical rights.
This means they owned him outright.
But he wasn't entirely the property of Benfica at the time.
One of the player owners appears to be Pini Zahavi, through a British Virgin Islands offshore company called Leiston Holdings, a company with which he is repeatedly associated in Football Leaks.
But this was not the only role the super-agent was performing during the negotiations.
While Zahavi's 'company' sold 50 per cent of the player to Liverpool, fresh documents reveal that members of Zahavi's 'network' received almost three million Euro for Markovic's image rights through an offshore company in Malta.
This is not all.
Members of Zahavi's network also represented both the Serbian winger and the English club at the signing of the contract.

1: Cashing in from third-party ownership
Leiston Holdings is an offshore commercial vehicle understood to be used by superagent Pini Zahavi to trade players' economic rights across the world in several deals.
FIFA has banned this practice, known as Third Party Ownership (TPO), since May 2015, when it prohibited influence from a third party on clubs' independence. The English Premier League had already banned TPO.
In April 2012, Leiston Holdings signed an agreement with Partizan Belgrade to buy the economic rights of Markovic, then 18 years old. The details of the deal could not be found in Football-Leaks.
Club talents from Partizan are often recruited by Fali Ramadani, a highly controversial Macedonian football intermediary of Albanian origins and a showrunner for the sports management agency Lian Sports.
In another email in Football Leaks, superagent Pini Zahavi calls Ramadani "my guy Fali". They attend business meetings together and Lian Sports players are the preferred clients of Apollon Limassol, a club in the first division in and Royal Excel Mouscron, a club in Belgium's first division.
Lazar Markovic is represented by Lian Sports.
On 1 July 2013, Lazar and his brother Filip Markovic were transferred to Benfica. The Portuguese club bought 100 per cent of Lazar's federative rights and 50 per cent of his economic rights from Leiston Holdings, the latter for 6.25 million Euro.
Zahavi's "company" is based at the same address - Coastal Building, Wickham's Cay 11 PO Box 2221; Tortola; Road Town; British Virgin Islands - where "offshore constructions" from the Panama Papers can be traced.
The brothers signed their contracts in the presence of the Lian Sports agent, Nikola Damjanac.
On 14 July 2014 Liverpool bought out Markovic - 50 per cent from his club, Benfica, and 50 per cent from Leiston Holdings, with each pocketing 12.5 million Euro.
In just 36 months, Leiston's share of Markovic's transfers reached a staggering 18.75 million Euro. Benfica's profit from the deals was 5.75 million Euro, while Partizan probably remained with an estimated amount of two to 2.5 million Euro, despite the Serbian club launching the player's career.
The agent won twice the combined amount the clubs received for the player.
This looks like great business.
But this is only the beginning.
2. Cashing in as agent for club and player
Pini Zahavi's shadow followed Lazar Markovic to England even after he sold his economic rights to Liverpool.
On the same day Liverpool and Benfica settled a deal with Leiston, the player born in Cacak, Serbia, agreed to a five-year contract with a basic wage of 44,688 GBP per week. His income could have been increased further based on appearances, goals, assist and club results.
Markovic's agent, Nikola Damjanac, also participates in the deal.
The Serbian agent was authorised to receive a total of 1.37 million Euro "on behalf of the player".
Managing Director Ian Ayre and Club Secretary Stuart Hayton signed the contract on the part of Liverpool.
At the end of the document, Damjanac is named as the "player's representative'.
But he is also, underneath, named as the "club representative" alongside Pietro Chiodi, a little-known Italian agent active in the Romanian market.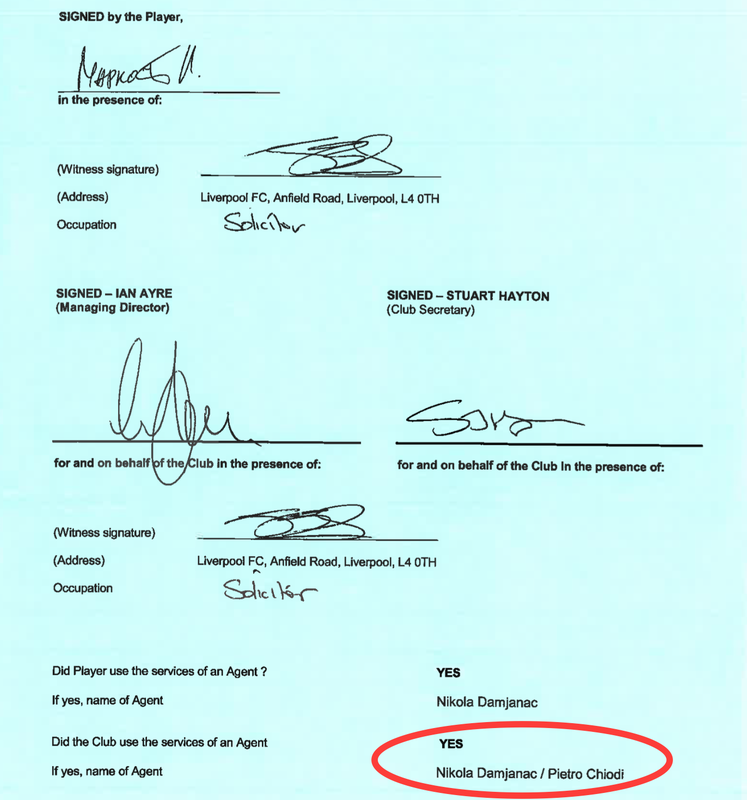 So Damjanac - a member of Zahavi's network - was representing both club and player.
But that is not all.
3. Cashing in on image rights
Liverpool is also paying over half a million pounds every year to the owner of the image rights of Lazar Markovic, Lanigan Management Ltd.
The 'image rights' is the money a player receives for the use of his name, signature and presence in commercial deals, such as sponsorhips and endorsements.
Over five years this deal is worth 2.9 million GBP (around 3.6 million Euro at the time)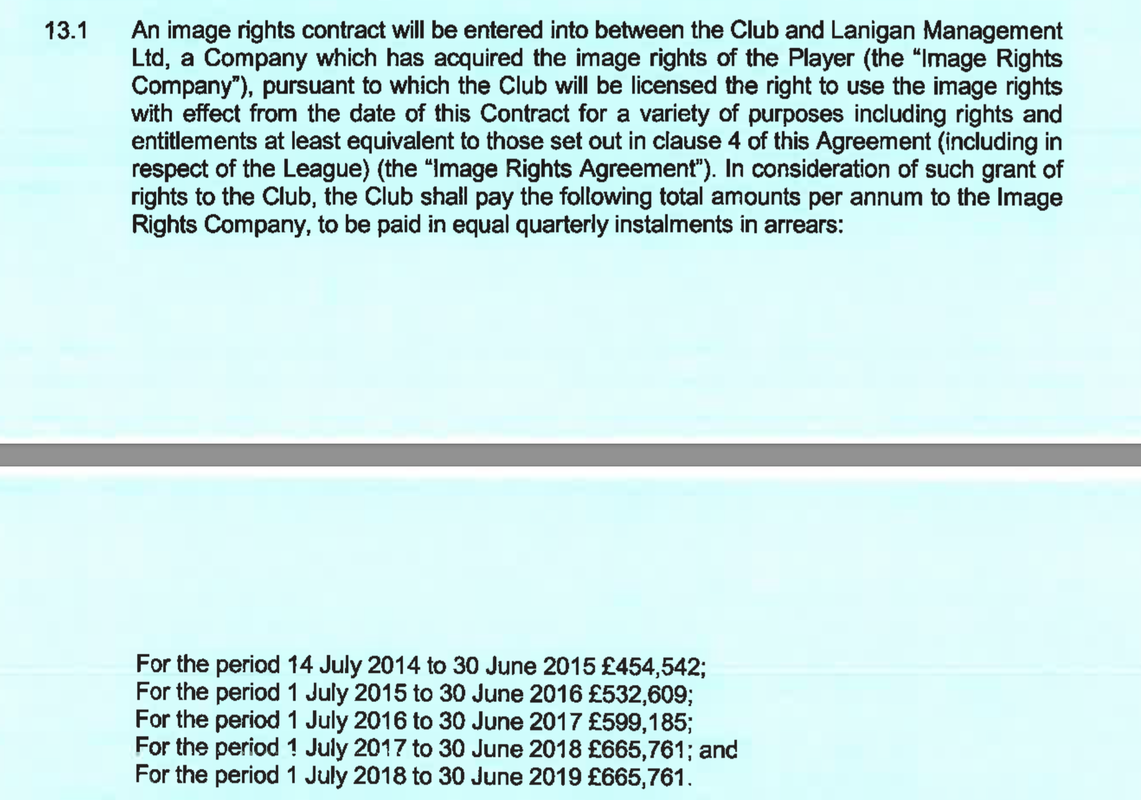 Lanigan Management Limited is based at the address 116/8 St. George's Road, St. Julians STJ 3203, Malta.
According to Lian Sports website, Lanigan Management Limited is the company that runs the agency's business.
Therefore on one player, Zahavi's group has cashed in the following (approximately):

- 12.5 million Euro transfer income payable through a TPO to a British Virgins Island offshore
- 1.37 million Euro as an agent for both sides to a Maltese offshore
- 3.6 million Euro through an image rights deal with Liverpool to a Maltese offshore

Interestingly, in the agreement between Liverpool and Leiston, the BVI company warrants to the English club that:
"it has not agreed, and it will not agree to pay directly or indirectly to, or to the order or benefit of, the Player, any agent, any current director or employee of LFC, or any person or company connected with any such person, any part of any amount payable to it under this Agreement".
A hilarious clause - as Zahavi has the reputation as one of football's premier superagents, and his clients include Barcelona attacking midfielder Javier Mascherano.

#FootballLeaks
Read more at our Football Leaks page
For a related article on the Zahavi network, read The Paper Players of Cyprus
A more detailed version of this article is in Romanian on Gazeta Sporturilor