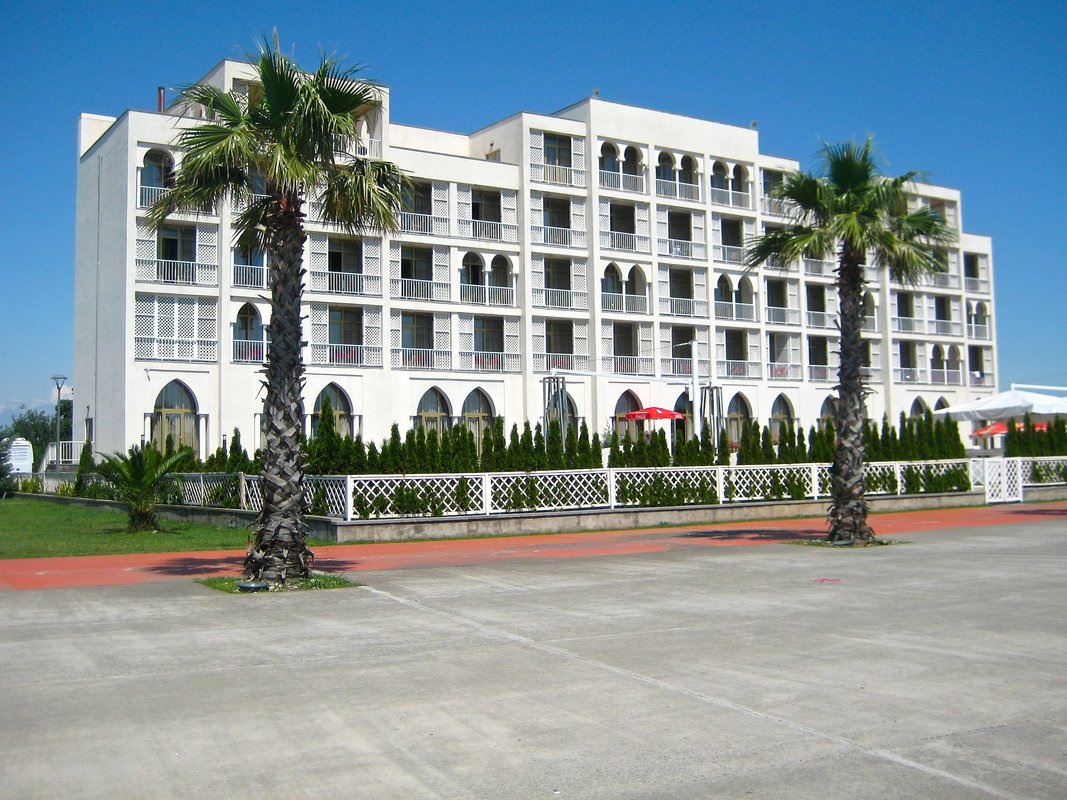 Deserted at the height of summer: luxury Anaklia Hotel, Georgia

'My baby came down from Romania/
She was the queen of Transylvania/
But now we live in suburbia/
Without any friends in Bosnia…'

To the Balkan beat of Disko Disko Partizani by Shantel, we end our night ride in a marshrutka minibus between the Georgian coast of Batumi and its capital Tbilisi.
I am left with the image of a fat young man trying to cheat me and a Finnish friend into getting off the bus with him and his three mates.
We needed to stop to use the bathroom on the eight hour journey - but he was blocking our route to the driver.
So my friend asked him – in Russian - if he could tell the driver to stop, so we could go to the toilet.
"Toilet, no problem!" he replied.
But he would not speak to the driver.
Instead, he had an excuse to talk to us, so he launched into a pick-up technique.
He began dancing on the bus aisle, moving his ample belly to the rhythms of tunes from Russia, Georgia and Romania.
When it was time for him to leave the bus, he told us:
"Toilet? Come follow me!"
We did not take him up on his offer.
On a marshrutka ride, besides being psychologically prepared for the idea that anything can happen, I found out that, no matter how long the ride, using a toilet was simply something I could not do.
Or it was something that depends on the good will of the driver and the other passengers. In any case, I had to restrict the amount of liquids I drank.
Before leaving for Batumi we had been to Anaklia, a resort on the northern end of Georgia's Black Sea coast, right at the border with Abkhazia.
Anaklia was a village that Mikhail Saakashvili, Georgia's former president and now governor of Ukraine's Odessa, wanted to modernize into a luxury tourist hub.
But, because he stopped being President, the transformation never happened.
Except for locals and a handful of tourists, the main boulevard, wide and flanked by palm trees, is empty.
The promenade features two sumptuous hotels, one inspired by a fantasy of 1,001 Nights and a glass and steel residence called 'Golden Fleece', named after the mythic strip of wool that supposedly resided in Georgia.
There is a mock-up of a Chinese pavilion built out to sea and another five-star hotel called Palm Beach. They surround a block of circular concrete that was supposed to become a further opulent construction for modernizing Anaklia.
But this is now an abandoned construction site. Right in front of the hotels, the beach is clean and the grass is cut to the smallest millimeter.
But just a few meters away, plastic bottles and plastic bags litter the beach and there are cows. Cows grazing on the beach.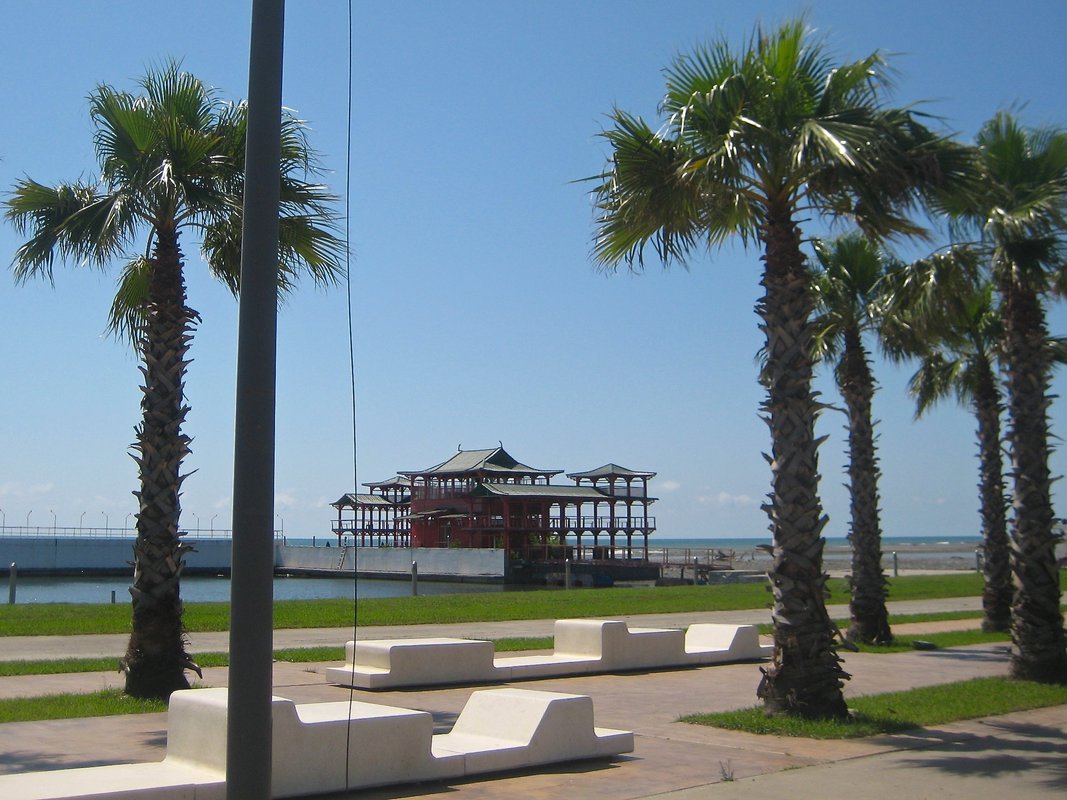 Eastern promise: empty Chinese-style pier - Anaklia

However Batumi, Georgia's most hip seaside resort, is the polar opposite to the vacated Anaklia. There is a high-rise tower, where the Georgian flag is projected on the building and a miniature ferris wheel turns.
A wooden boat has been transformed into a café and restaurant. Here there is so much zeal about service that a waiter comes every five minutes to have a look at my plate and cup of coffee to see if I have finished.
The moment I put down my fork, the question comes: Cheque?! A bit surprised, I could not decide if I was, exactly at that moment, being forced to either order more or get out.
High-rise, lavish, kitsch hotels, designed for Georgia's nouveaux-riche, are a trademark for Batumi as well. The main boulevard runs alongside the seashore and, in spite of the flash new buildings, there is garbage on the pebbles.
Across the street from western style hotels, next to a row of stones that end in the sea, a rat tries to pull a bag of rubbish into his hole.
Foreign women traveling alone seem to be an exotic treat. People are still surprised that two women, unaccompanied by a man, can order for themselves a bottle of wine in Georgia's summer party capital.
Here we were also not immune to propositions. Strolling on Batumi's boulevard, as English speaking women, we were approached by a man, in his late 20s, in dark jeans and a t-shirt, who approached us and said:
"Do you speak English? I have sex super."
Again we refused the tempting offer.
But in general in Georgia, people are willing to help to an incredible degree. In the bus station in Tbilisi, a stranger found us a taxi without expecting anything in return - and whenever we asked for directions, Georgians would take us to the place we needed to go, to make sure we arrived. This is a country that should be renowned for a helpful and welcoming attitude - with only a few libidinous exceptions on the seaside.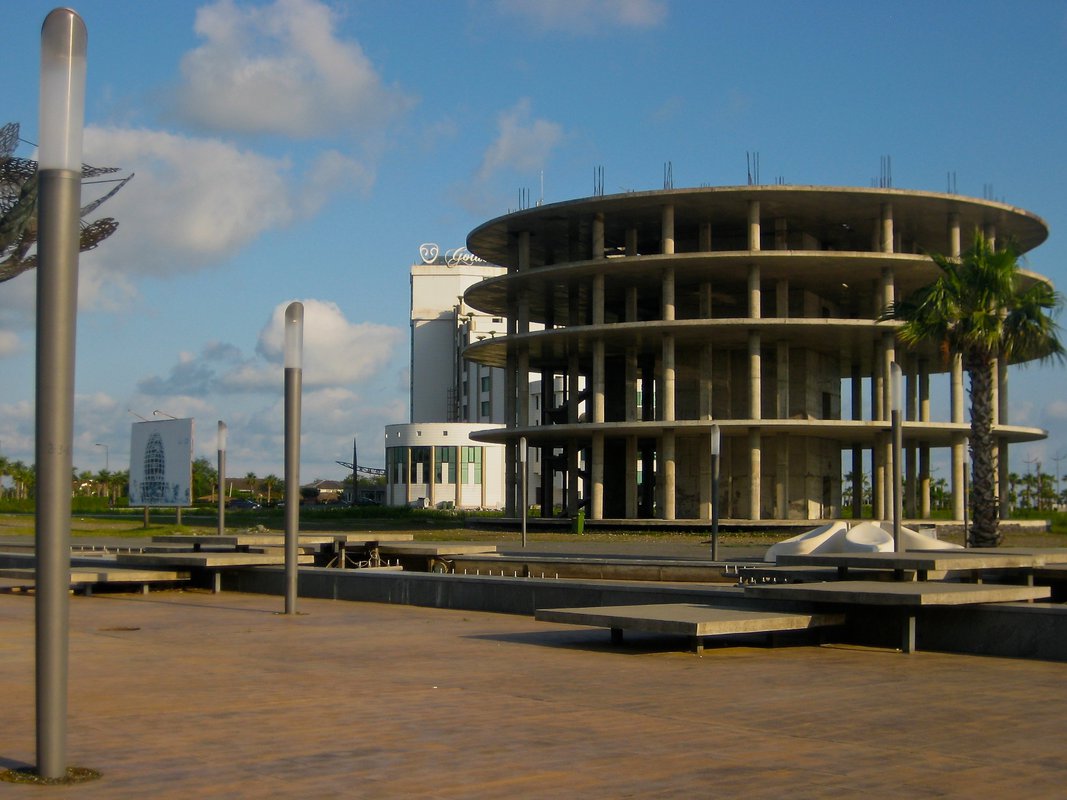 Shells of hopes for a five-star experience in Anaklia

Yet here the food was great. The service at worst overzealous.
However failed and forced attempts at modernization are visible in the architecture of both Anaklia and Batumi, conditioned on the idea that ostentation equals modernization.
Both are standing illustrations of Georgia's post-soviet authenticity, but also testimonies to its failed attempt to find a replacement for Abkhazia's Sukhumi, and the Russian Sochi, which used to be the top summer holiday destinations in the South Caucasus before the Georgian-Russian war - and which now - due to regional politics - Georgians find it hard to see again.