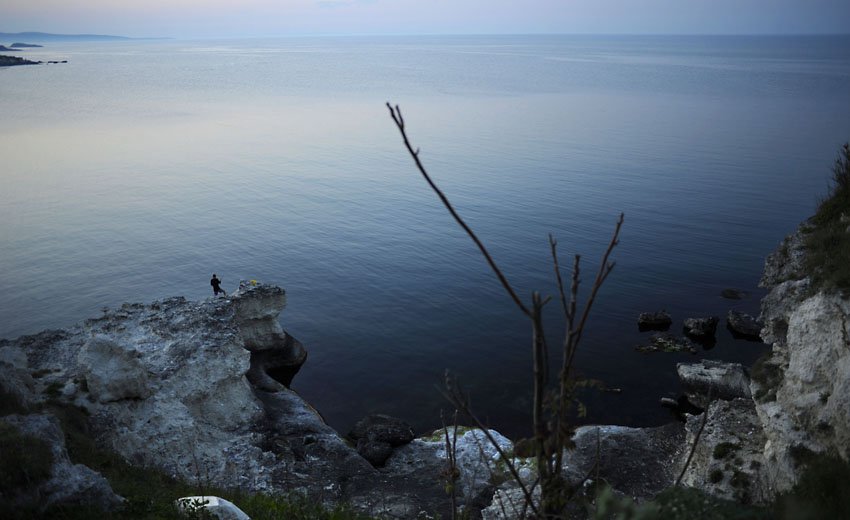 Our first stop is at Krapets, 24 km from Vama, a fishermen's village chockfull of vegetable gardens. We make our way to the fishermen's bay where Petre, an old bushy-eyebrowed man, is striving to repair a fisherman's boat, a fisherman who must go out to sea with the local divers. His boat can be seen somewhere in the distance and Petre says it's rented by the local divers looking for seashells. Petre speaks Romanian very well, he's got relatives along the coast and the Delta. When hearing about our destination, he garrulously tells us a joke about a 'German' who goes to Romania, Bulgaria and Turkey where he eats and drink at his leisure. The next day, in Romania, he gets a stomach ache, in Bulgaria his head hurts and in Turkey – Petre starts to move frantically, making large gestures pointing towards his behind. In a worried voice, he tells us to be careful as Turks do not joke about. We ask him if he has ever been to Turkey. Negative answer. The reason? Gas costs double the amount (well, a piece of information which proves to be false).
On the main road, besides impressive aeolian parks, clusters of brand new constructions come into sight. At almost 90 km from Vama, we encounter a huge brand-new complex set on a plateau above the sea. Inside – a spacious golf course guarded by a row of villas like peas in a pod. A German construction to the core, with every little detail well-rounded. A single player is present on the golf course. I felt we were dealing with a luxury complex – though the prices posted on the site seem moderate (www.lighthouse-bg.com). Admittedly, a rather artificial setting.
From here on, on the edge of the highway, road signs (written in German) begin to pop up – the language of the tourists who dwell these papier-mâché all-inclusives. As we approach Varna (150 km from Vama) and Burgas (approximately 250 km), the number of tourist complexes increases wildly – we're talking about a massive and very impressive structure, even if it entails a huge amount of concrete and an eccentric, American mall-like architecture endowed with turrets. The only villages to have escaped the fury of concrete are those at the ends of the Bulgarian coast, bordering Romania and Turkey.
After leaving Burgas, several alternatives come into sight, in small coastal towns where such massive all-inclusive organizations haven't had the chance to be built. These alternatives come in rows along the road to Sozopol, a road leaving the main highway out of Bulgaria. Starving to death, we decide to grab a bite in Chernomorets. There's no activity in this little town before high season; only one restaurant is open – so we fall into our first tourist trap (at least for me, its consequences lasted two whole days). Food may be good and cheap in Bulgaria, but we didn't luck out the first time.
We spend the night in Tsarevo where a straight road takes us to the customs point with Turkey. A calm little town, flanked by two large bays whose locals walk with a lazy gait (I have noticed many of them loitering on terraces, indulging in a spritzer and fresh fish). Tomorrow we enter Turkey.
*(For technical reasons – translation and blog maintenance – our posts will be two weeks late as opposed to the real rhythm of the trip)