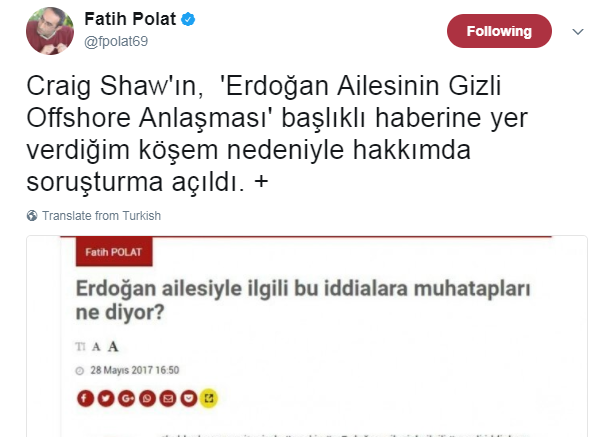 A Turkish prosecutor has launched an investigation into the editor of left-wing daily newspaper, Evrensel, over a report he re-published by The Black Sea about the secret financial affairs of the Erdogan family.
The Turkish President's lawyer lodged a complaint against editor Fatih Polat, who faces the charge of "insulting the president", a criminal offense in Turkey. This is one of the most common legal tools utilized by Erdogan and his government to silence his critics and attack free journalism.
On 28 May, Polat published a column on the paper's website titled "What does the Erdogan family say about these allegations?". It included the full text of the #MaltaFiles investigation published two days earlier that revealed how two rich Turkish businessmen close to the president paid 25 million USD for an oil tanker secretly owned by the family's offshore company.
The news organisation was ordered by an Istanbul court to remove the column, and they soon filed an appeal against the decision. Two days ago,lawyers announced their motion had been rejected by the Turkish court of appeals.
The legal justification for this was a single line:
"The appeal is to be rejected."
The news magazine pledged to fight the issue in the Constitutional Court. But now Polat also faces a lengthy criminal process, which could take years to resolve.